A hub for peace-building and dialogue
An LAU Byblos debate between LAU students and actors as well as victims of the Lebanese civil war helps youth to better understand the conflict and its impact on the society and to remember to move forward.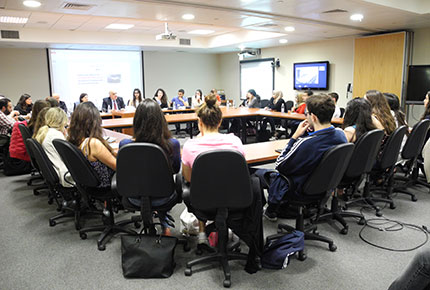 "I have never experienced something like this before," says Makram Ouaiss, assistant professor of Political Science and International Affairs at LAU, referring to a conference that took place at LAU Byblos under the iconic title Remembering to move forward.
Sitting shoulder to shoulder on one side of the conference room were top fighters who had battled each other during the civil war, as well as representatives of civil society. Opposite to them, a group of selected students was given the opportunity to interrogate them on that bloodstained period.
"Something had moved inside of them," says Ouaiss referring to how the debate affected his students. "It was as if they had discovered something about their family they had not known about before".
Among the speakers were Ziad Saab, a former commander of the Lebanese Communist Party more recently involved in the Permanent Peace Movement, as well as Assad Chaftari, who served as a senior intelligence official in the Lebanese Forces and is currently coordinating the union of 29 NGOs Wahdatouna Khalasouna (Arabic for our unity is our salvation).
According to Saab, the dialogue was enriched by the presence of journalists and historians who also contributed with their own narrative of the events, as well as by the participation of Wadad Halawani, president of the Committee of the Families of the Kidnapped and Disappeared and one of the many wives who request to know the truth regarding the fate of their husbands. "Usually in these conferences only two opposed ex-fighters are invited," says Saab. "Here you had more perspectives, and this brought us to ask ourselves deeper questions".
Associate Professor Marwan Rowayheb describes this as a unique opportunity for the students attending his courses in Political Science and International Affairs. As first-hand reports of the civil war are scarce or unavailable, giving students the chance to talk directly to those involved in the history of the country is tantamount to creating a link between the war and the new generation. "Students don't understand why it happened," says Rowayheb. "We never try to do this because certain topics are taboo, but this conference allowed students to infringe these barriers."
According to political science and international affairs student Ali Taha, his peers "went out and started questioning what they had been told." For younger students in particular, the conference was the trigger to a new approach toward the history of their country. "What was striking was that they showed regret, and expressed their determination to work socially in order for this not to happen again," says Taha.
The presence of Wadad Halawani also made students realize that the war is not a forlorn past. Awareness of the many wounds that are left unhealed raised more questions as to how to deal with those consequences of the war that still affect the Lebanese society. "Understanding why it happened is the first step towards understanding why it should not happen again," says Ouaiss. "The simple fact of having ex-fighters and victims sitting altogether at the same table was the greatest message of peace."