A leading light
Instructor of Italian at LAU Beirut, renowned author and women's rights activist Joumana Haddad was lauded as one of "eight leading lights in Lebanese culture" by CNN.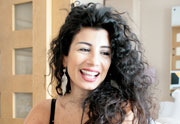 Joumana Haddad has been recognized by CNN among Lebanon's cultural leaders with Nadine Labaki, actor/director; Lucien Bourjeily, theatre director/filmmaker; Danielle Arbid, filmmaker; Zeid Hamdan, musician/producer; Bernard Khoury, architect; Ayman Baalbaki, artist; Rabee Jaber, author.
Click on photo above for larger version.
CNN has recently recognized eight "leading lights in Lebanese culture," Joumana Haddad, is one of them. Instructor of Italian at LAU Beirut, Haddad is a renowned author, women's rights activist and cultural editor of An-Nahar.
"Lebanon has a rich contemporary arts scene and cultural life," CNN's website says. "We've highlighted eight people from the country that we think are some of the most innovative and interesting and are making an impact in Lebanon and internationally."
"It's interesting that the eight figures chosen all belong to the same generation—we are in our 30s or 40s and we share similar experiences," Haddad reflects on being recognized in the company of Lebanon's premier filmmakers, directors, painters and architects.
Indeed, all are prominent figures in the lively cultural scene of Lebanon and share qualities of innovation and pushing the envelope. "We are all trying to provoke rather than merely entertain."
Haddad discovered the CNN accolade by chance — "A colleague of mine posted the article on Twitter," she says.
"It was a very proud and happy moment but also mixed with a certain degree of bitterness—why do I receive recognition from the international community and not from my own region?" she wonders.
Perhaps the answer lies in the fact that Haddad specializes in a sort of writing that makes jaws drop. Indeed, her 2008 book I killed Scheherazade: Confessions of An Angry Arab Woman (translated into thirteen languages) made some in the region uncomfortable with its brazen criticism of the status of women in the Middle East.
However, "Men are not the enemy," insists Haddad. This is a position she reiterates in her hotly anticipated book, Superman is an Arab: On God, Marriage, Macho Men and Other Disastrous Inventions. 
Haddad is fluent in seven languages and has received the Rodolfo Gentili Prize for her support of women's rights in 2010. She is also the recipient of the Blue Metropolis Arab Literary Prize during the Montreal International Literary Festival and sits on the Board of Trustees that awards the International Prize for Arab Fiction.
As the founder and editor-in-chief of the avant-garde magazine, Jasad which focuses on issues of sexuality and gender, some dub her the "Carrie Bradshaw" of Lebanon though she shrugs off this comparison: "The only thing we really have in common is a love for Italian shoes," she says laughingly.
Haddad joined LAU a year ago and relishes her role as an instructor. "It has been amazing working at LAU; in fact, it was always my dream to teach at the university level," she reveals. This stems from a love of interacting with youth—many of her students stay behind after the Italian lesson and discuss gender issues and struggles. "I feel that this new generation has a greater awareness of gender inequality but in some ways lack the will to do anything about it," she admits.
Yet she certainly does harbor optimism for the future—an optimism that is reaffirmed when she conducts speaking engagements on LAU's campus—the most recent one occurred on May 18 and focused on her book I Killed Scheherazade.
Haddad went away from that lecture feeling energized by the young minds that came to debate and discuss the nature of gender relations in the Middle East. "We learn from each other."
"This is why I love teaching," she says.