A macro discovery at the microscopic level
Two LAU students reach the final round of the Global Innovation in Science and Technology Competition for using silver nanoparticles to sterilize milk.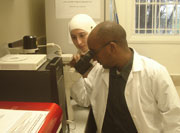 Karim Mohamed and lab assistant Nawal Al-Hakawati investigate nanoparticles in LAU's microbiology lab.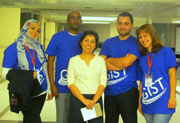 Nanoparticle superstars Karim Mohamed and Mees Al Otaibi with GIST organizer Yuritzi Acosta and LAU alumni Ziad T. Sankari and Najwa Sahmarani at the GIST competition in Istanbul (from left to right: Sahmarani, Mohamed, Acosta, Al Otaibi, Sankari).
"Changing the size of a chemical substance is like changing the frequency of a radio," says Dr. Ahmad Kabbani, professor of chemistry and the chair of LAU Beirut's Natural Sciences Department. "You get completely different properties."
Kabbani investigates the constructive properties of particles between 10 and 100 nanometers in length. "Silver nanoparticles can assemble bacteria effectively, and render them less resistant to antibiotics," he explains.
Arcane as such a finding may seem, LAU biology majors Mees Al Otaibi and Karim Mohamed have reached the final round of the Global Innovation in Science and Technology (GIST) Competition with a new biomedical application of it.
Mohamed has been involved in nanotechnology since 2009. In his final year at LAU, he combined nanoparticles with antibiotics to combat multi-resistant strains of E. Coli, a common hospital scourge. "I continued working on the project after I graduated — for my own personal growth and development," he says.
Under Kabbani's supervision, Mohamed and Al Otaibi began using silver nanoparticles to sterilize milk and vegetables. "We wanted to test how long milk could remain unrefrigerated without spoiling, using bacterial counts as the determinant," Mohamed explains.
"The research involved a lot of milk, both pasteurized and unpasteurized," he recalls. It transpired that milk treated with nanoparticles is markedly less perishable, lasting three days without spoiling.
When Al Otaibi and Mohamed applied their technique to tomatoes, they discovered that nanoparticle-imbued vegetables remain intact for three weeks.
Kabbani suggests that purifying milk with nanoparticles could avert nutritional losses while preserving energy. "Current methods of milk sterilization, such as pasteurization by heat treatment, may reduce the health benefits of milk by denaturing proteins," he notes.
"Our method is easy to apply, quick, cheap, and safe," says Mohamed. "It could potentially revolutionize the way farmers are able to transport their products."
To enter the GIST competition, Al Otaibi and Mohamed produced a YouTube video showcasing their brainchild. They shot "Silver Nanoparticles for the Quality and Safety of Milk" on location at City Market and LAU's microbiology lab. 567 viewers "liked" the informative short, catapulting the pair to semifinal glory.
"We were among the top 25 contestants, so we won an all-expenses-paid trip to Istanbul to attend the Global Entrepreneur Summit, which was hosted by Turkish Prime Minister Tayyip Erdogan," says Mohamed.
In Istanbul, the biology students were stretched to present their idea to a panel of expert business investors. "We had completely focused on the scientific data behind our product, and they wanted to know about licensing, intellectual property, expected profits, and distribution and so on."
With the help of their mentor, Aurora Equity managing partner Dr. Jaleh Daie, Al Otaibi and Mohamed conducted additional research and rapidly revamped their presentation. They subsequently advanced to the final round, overcoming their unfamiliarity with business.
"We received acclaim for being fast learners and working effectively under pressure," says Mohamed. "We are extremely proud of our accomplishment."
The team received a $2,000 grant for their enterprise. "We also caught the eye of investors, medical entrepreneurs, and business people from across the region," says Mohamed, who appreciated the opportunity to spotlight his university. "Little is known about the research that goes on at LAU. Our facilities are small but they're rapidly developing."
For Mohamed, who plans to continue nanoparticle research at LAU, the GIST competition underlined the importance of independent academic research. "To succeed in business, you must prove to investors that you will be able to make a profit, when science is about attempting to explain the unknown and most discoveries are made by serendipity," he says. "It is therefore the responsibility of governments and academia to invest in technological innovation."