A mouthful of heaven
Two LAU students' fusion cuisine restaurant opens for business.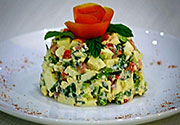 Taking its name from the fruit itself, Arassia incorporates arassia jam into most of the dishes it serves – from tabbouleh, hummus and vine leaves to kebbeh and kafta.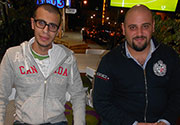 LAU students Sari el Halabi and Fouad Debs say that passion and hard work are the key ingredients of a recipe for success.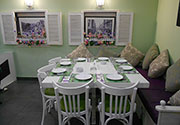 The young entrepreneurs did everything from scratch and don't hesitate to put their aprons on to help in the kitchen when needed.
Click on any photo to view all three pictures.
Arassia trees are summertime's fleeting sweethearts. They make a rather bold and sweeping appearance during the year's most scorching months, bearing ripe, fleshy plum-like fruit, before going into hibernation in the wintertime. Arassia plums are then picked, peeled, chopped, sweetened and heated into ambrosial, plumpish purple jam best enjoyed when snacked on with bread and butter — or, astonishingly enough, with most traditional Lebanese dishes.
Incorporating arassia jam into any sort of cuisine — much less Lebanese cuisine — may at first glance come across as outré. But Arassia, a Beiruti fusion cuisine restaurant launched by LAU students Sari el Halabi and Fouad Debs, proves that such unlikely mélange is entrancing, to say the least.
"The concept of fusion cuisine is not new per se, but very few restaurants have attempted to combine fusion cuisine with Lebanese cuisine in the region," says el Halabi, managing partner of Arassia.
It all started in the summer of 2011. After attending a Dubai-based training organized by LAU, tourism and hospitality management students el Halabi and Debs casually flirted with the idea of starting a business together. What started off as a sheer pipedream, however, quickly became the duo's sole preoccupation upon their return to Beirut.
In December of that same year, the twosome embarked on an eight-months entrepreneurial venture, planning Arassia with painstaking attention to detail. Everything — from the food served, to the décor, to the furniture — was planned entirely by el Halabi and Debs, with Fady Rebeiz, lecturer at the Department of Hospitality and Tourism Management, acting as the duo's consultant and financial patron.
"We did everything ourselves from scratch," says Debs, managing partner of Arassia. "We chose the couches, designed the wallpaper, hung the chandeliers, bolted the wooden windows in place — everything."
Rebeiz helped the two budding executives with Arassia's menu planning and management, all the while providing them with the requisite training to oversee the restaurant's financial transactions and operations. "They came up to me after class one day and asked for my advice. They were so refreshingly determined and eager to learn, that I had to say 'yes,'" recalls Rebeiz. "I have been the restaurant's consultant ever since."
Despite an unfortunate robbery that befell Arassia a couple of weeks ago, the duo's forceful willpower keeps them from giving in to disheartenment. "A robbery is the lesser of two evils. The country's political instability is what we — and all businesses — should be on the lookout for," says el Halabi, adding that he and his partner plan to franchise their outlet to other Arab countries.
Speaking highly of the entrepreneurial pair's ambition and devotion, chairperson of LAU's Department of Hospitality Management and Accounting Dr. Said Ladki says, "These two young, bright men are bound to succeed. They want to make a difference, and they are well equipped — through both education and work experience — to meet the needs of today's market. I have no doubt that they are here to stay."
Arassia is located on the ground floor of Najjar Bldg., Saydeh St. in the heart of Achrafieh. For reservations, please call 01 33 33 90.