A new CEP center for Sidon
The Continuing Education Program, in partnership with the Chamber of Commerce, Industry & Agriculture, continues mission to take LAU to all students across Lebanon.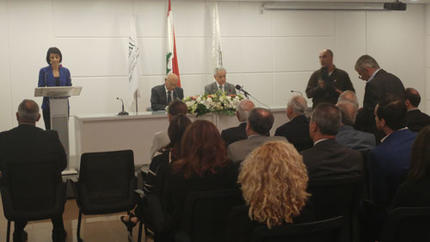 The newly established learning center in Sidon―opened last week as part of a collaboration between LAU's Continuing Education Program (CEP) and the Chamber of Commerce, Industry & Agriculture for Sidon and South Lebanon―will be the third off-campus CEP center instituted in the country.
"We now have partnered learning sites in Tripoli, Zahle and Sidon and as such have completed our strategic goal of ensuring full coverage of CEP services across Lebanon," explains CEP Director Michel Majdalani.
In his address at the signing ceremony held in Sidon last Tuesday, President Joseph G. Jabbra reasserted LAU's pledge to serve the community. "We are at the heart of the community, not towering above it, and we are committed to ensuring that all the people of Lebanon have access to LAU. If the student cannot come to the campus, then the campus will come to the student."
Eighty-five percent of businesses in South Lebanon are small to medium enterprises, said a representative for the Chamber of Commerce during the ceremony. "We at the chamber represent the private sector and want to reinforce skills and strengthen our work force. That is why we are here today to sign, and combine our efforts with the expertise of LAU to introduce the people of Sidon and the south to skills and careers that are needed by SMEs."
In attendance were several representatives of private sector companies, among them Byblos Bank's regional manager for South Lebanon Imad al Amin, who was keen to learn more about the programs on offer at the center. "We normally train our staff centrally, but such a center may provide us with opportunities that cover different subjects, and that are more convenient to implement, particularly for staff based in the south. It would also give our professionals more exposure, meeting and training with those from other industries and businesses."
Over the past two years alone, almost 700 professionals have studied for certificates and diplomas at the CEP centers in Tripoli and Zahle, which opened in 2011 and 2013 respectively, and demand in Sidon is likely to be just as high.
"CEP now boasts over 50 programs covering post-secondary, para-professional as well as professional education in four different locations," added Majdalani, highlighting the huge strides taken by CEP since it was launched some 25 years ago.