A new cycle
LAU student-led project wins international Ripples of Happiness competition.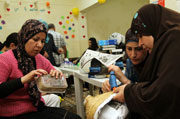 Dahr el-Megher women at work.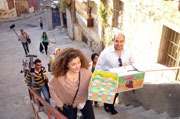 After a visit to Dahr el-Megher LAU students take the hand-made products to present and sell them in Beirut.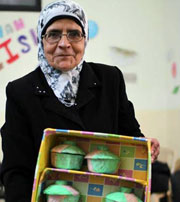 A contributing woman proudly presents some of the hand-made products.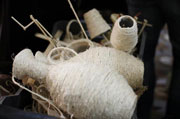 Some of the decorative items made out of recycled material.
Click on any photo above to view all four images.
WEcycle, an LAU student-led project aimed at empowering local women in North Lebanon by training them to turn waste materials into saleable handicrafts, was recently announced as the winner in Lebanon and one of the five winners internationally of the Ripples of Happiness competition.
Designed by Coca Cola and INJAZ Al-Arab, Ripples of Happiness fosters social entrepreneurship and leadership skills among university students across the Arab world. Students from several Arab universities competed to develop various initiatives that respond to critical needs in their respective communities.
The WEcycle project emerged as a result of a close collaboration between LAU's Outreach and Civic Engagement (OCE) unit and the University Enterprise Office (UEO), who helped to provide proper exposure to the venture.
WEcycle (Women Empowerment - Cycle) collects solid, recyclable waste (including glass, wood and plastic) from various high schools in Dahr el-Megher district of Tripoli, and allows women to transfigure them into a variety of salable goods, such as necklaces, bird cages, trays, tissue boxes and garbage cans.
Each product has a tag bearing the name of the woman who made it, with the earnings from the sales going directly to the women themselves, as well as the schools that provided the solid waste.
The students at Dahr el-Megher High School have been playing a key role. By collecting materials to recycle, they help to reduce the waste polluting their neighborhood, and learn the importance of youth leadership on environmental issues.
"They are the future of this region," says project coordinator Reem Assi, a psychology student who just graduated from LAU. "We want them to realize that change is in their hands."
But these students are left with more than a moral lesson. In exchange for providing the solid waste needed for the fabrication of the artifacts, one of the schools of Dahr el-Megher was equipped with a small library, thanks to the revenues generated from the selling of the handiwork.
"Using the yield of WEcycle in improving the situation of public schools in Lebanon is a significant added value," says OCE Executive Director Elie Samia, adding that the energy of the youth in local development has a crucial impact on economic growth in Lebanon.
For LAU students, the project is an opportunity to give something back to society and develop practical skills as they prepare to enter the international workforce.
"If a group of university students can accomplish so much with so little, just imagine how many lives could be changed with sufficient resources," says active WEcycle team member George Ayoub from LAU Byblos.
By winning the Ripples of Happiness competition, the students behind WEcycle will receive a grant and be given two months to implement the project, recruit a trainer who will help these women develop selling strategies and find a decent market for them to sell their goods.
While the pilot project gave the women total freedom regarding the sorts of goods they were making, more attention will be given this time around to the most popular items among buyers, thus boosting the women's entrepreneurial skills and understanding of market needs.
According to Assi, the grant will go to building a sustainable organization whose main goal is to spread environmental awareness by organizing recycling duties within the contributing schools in Dahr el-Megher, in addition to supplying the women involved with the required support to improve the quality and usability of the recycled goods.
"WEcycle will give these women a source of income," explains Assi. "This job is not your average job. It employs housewives who, prior to this initiative, were never privileged to work before."
Inaya Taleb a mother of five in her late thirties has been part of what she calls a "unique experience." "To be able to be part of this process makes me feel proud and gratified," she says.
But it's not all about the money, says Assi.
Most importantly, this project boosts the participating women's confidence and sense of productivity, while arming the school students of Dahr el-Megher with a feeling of responsibility toward the environment, and allowing them to see the fruits of working as a team.
"This project has transformed waste into beauties, allowed a school to build a small library, helped the environment, and brought hope and smiles to women in Dahr el-Megher," says director of UEO Dr. Walid Touma, who hopes that WEcycle will help to create ripples of happiness all over Lebanon and the region.
LAU would like to thank Maroun Al Asmar, the man behind the idea, who initially trained the women of Dahr el-Megher; Chadi Nachabe, coordinator with Injaz, who assisted the team in focusing their plan; Carmen Geha, trainer from Beyond Reform & Development, who trained the team in fine-tuning their idea and work plan and LAU alumna Dima Khoury, executive director with Injaz, who initiated LAU's engagement in the project.
For more, visit WEcycle Facebook page.