A new engineering horizon opens for LAU students
The School of Engineering prepares to launch a new program in mechatronics.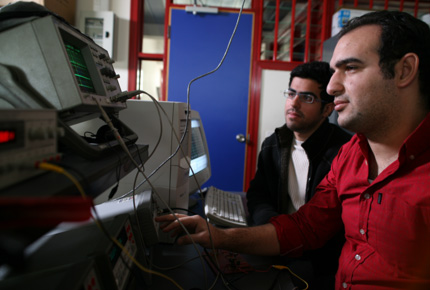 In keeping with LAU's mission to respond to the needs of students and industry, the School of Engineering is instituting an undergraduate program in mechatronics.
"Today most technologies are becoming mechatronic in nature," explains Dr. Barbar Akle, head of the committee that developed the curriculum for the new B.E. in Mechatronics. "Previously cars were pure mechanical systems, today they are computer-controlled, hybrid powered, and becoming driverless."
Akle, assistant dean of the School of Engineering and an associate professor whose current teaching schedule includes courses in mechanical engineering, expects over a dozen new enrollments in the program when it launches in the fall of 2015. "We may accept transfers from mechanical, electrical and computer engineering majors," he states. In fact, the program proposed by the committee that he headed included the results of a survey of currently enrolled engineering majors. 50 percent said they might consider a transfer, while 85 percent of respondents said they would recommend a new program in mechatronics to others.
Akle is not surprised. "Buildings used to be passive with switches to turn components on and off, today they are becoming automated and intelligent," he says. "Robots, appliances, cellphones, cars, airplanes and buildings are all developing into mechatronic systems."
Asked whether the job market in Lebanon was advanced enough to absorb graduates of such a specialized program, Akle affirmed his belief that the mechatronics industry is booming in Lebanon. In his assessment, "several companies are building automation systems in the local market, and graduates of this program will have profound knowledge in both mechanical and electrical/computer engineering along with their specialization in mechatronics, so job opportunities will be abundant."
As with other engineering programs, students of the B.E. in Mechatronics will be expected to undertake an eight-week internship during their third year to gain professional experience. While students can chose to spend those weeks abroad, Akle believes there are enough companies in Lebanon developing mechatronic systems for students to profitably remain in-country. "Packaging systems for Sanita and Proctor & Gamble are produced in Lebanon by Lebanese companies, and this is but an example."
Similarly, the assistant dean does not expect to encounter any difficulties in recruiting faculty to teach new courses developed specifically for the mechatronics program. "Both the Industrial and Mechanical Engineering and the Electrical and Computer Engineering departments already have several full-time faculty members in the area of mechatronics who can cover the entire curriculum," he asserts. "More faculty members will be recruited once the program is launched in order to increase the diversity of course offerings."
The program's curriculum includes twelve new courses specific to mechatronics. "Students from other engineering majors will also be welcome to take these courses as electives. It's a win-win situation," enthuses Akle, who may teach some of the new courses himself.
The interdepartmental committee on Mechatronics Engineering is also composed of Dr. Jimmy Issa, associate professor of Mechanical Engineering, Dr. Michel Khoury, chair of Industrial and Mechanical Engineering, Dr. Zahi Nakad, chair of Electrical and Computer Engineering, and Dr. Dani Tannir, assistant professor of Electrical Engineering.