A new wave of leaders for the Arab world
Joy and pride reigns at reception celebrating the successes of 2017 LAU MEPI-Tomorrow's Leaders graduates.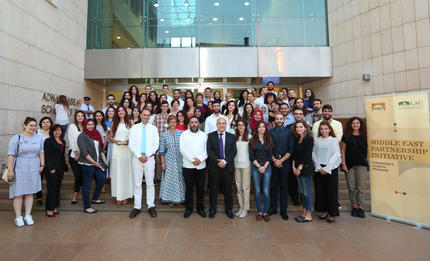 The LAU-Middle East Partnership Initiative Tomorrow's Leaders Program brought together students, faculty members and university officials last week in a reception to celebrate this year's LAU MEPI-TL graduates.
"Part of LAU's mission statement is civic engagement and the formation of leaders in a diverse world, and the MEPI Program falls within this objective," said LAU's Assistant Vice President for Outreach and Civic Engagement Elie Samia.
Samia pointed out that, since its inception, the program has recruited students from nine MENA countries into various majors, contributing to the diversity of the student body at LAU. This year, of the 68 scholars bidding farewell to six special members of the MEPI family, 83 percent are graduating with a cumulative GPA above 3.0.
According to Samia, the importance of the MEPI program lies in its three objectives: developing the civically engaged students, encouraging them to excel academically, and making sure they contribute to the economic growth of the Arab World. "Leadership development, advocacy, and civic mindedness in the Arab World are what we really cherish," he underscored.
With an overwhelming spirit of pride and joy, the reception featured an overview of the graduates' highly praised capstone projects, as well as the internships they performed at renowned NGOs, which helped them further develop their civic spirit.
Several success stories were also showcased, such as that of Nour El Sheikh, one of the graduates who won seventh place in The International Universities Arabic Debating Championships in Qatar. El Sheikh expressed her gratitude to the program, "The MEPI-TL Program had quite an impact on me, as I participated in the same championship in 2015 and came back home empty-handed," she said before adding, "This year, I was among the top ten, thanks to the skills I have garnered at LAU."
Faculty and staff also got the chance to give their testimonials, as they prepared to welcome a new cohort of students and bid this one farewell. "Despite the fact that you come from different parts of the world, you have become family to each other. It's your successes and spirit that we treasure the most," Elise Salem, vice president for Student Development and Enrollment Management, told the students.
Loulwa Kaloyeros, MEPI's academic coordinator agreed, "I joined MEPI in 2008, with only six students to kick off the program. Now we've grown exponentially, and I cherish every single moment that I've spent with you all."
Greeting the new graduates, Ghada Majed, associate director of the Alumni Relations Office said: "Today, you are joining a distinguished group of more than 43,000 fellow alumni who can assist you in many ways. The alumni family welcomes you." Majed assured the students that 43 alumni chapters disseminated all over the world were ready to look after them, and encouraged them to never forget LAU. "Be proud of your LAU degree; you worked very hard for it."