A Partnership that Lasts: LAU and Makhzoumi Foundation
The foundation and university come together to formalize a successful internship-program agreement.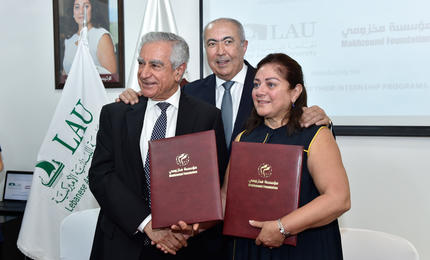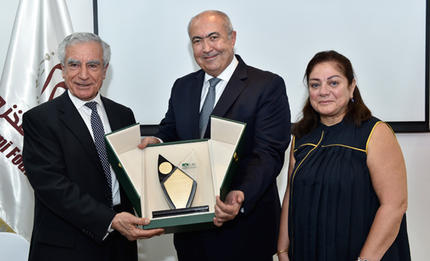 Fouad and May Makhzoumi, founder and president of the Makhzoumi Foundation respectively, entered into an agreement earlier this month with LAU President Joseph G. Jabbra that formalizes a long-standing internship program between the institutions.
Dozens of LAU students from across a number of schools have been for many years volunteering their time and expertise to serve the beneficiaries of the non-profit Makhzoumi Foundation, which runs numerous programs to assist and strengthen local communities.
"We share a commitment to producing future leaders," said the foundation's CEO, Samer El Safah, of the continuing vision and partnership between the "empowering NGO and leading university."
Earlier in the week, students of LAU's Nutrition and Dietetics-Coordinated Program set up a stand at a large supermarket branch in Beirut together with nurses from the Makhzoumi Foundation to offer blood-sugar tests and advice to members of the public. This was just one example of the many community-outreach initiatives the two institutions have engaged in together.
"We are today confirming our commitment to expanding the capacity of our youth, to ensure they can master the needs and challenges of this era… to fight against destruction… against differences," enthused Jabbra at the signing of the agreement on November 17 in front of a large audience that included many LAU deans.
Their students will be among those who will benefit from guidance during their internships from both LAU faculty members and professionals at the foundation. "We are proud to offer students experience in capacity building," said May Makhzoumi, noting that Oxford University also sent students to the foundation to complete internships.
"We give them an idea about philanthropy, but we run it like a business, so they learn about accountancy, micro-credit, and administration… and gain a broad idea of how things work day-to-day," added the foundation president, whose mother graduated from LAU when it was known as the Beirut College for Women.
"We established the foundation 20 years ago to help Lebanon's citizens, and time has shown that perseverance has paid off," said Fouad Makhzoumi. "Partnership is important, and together we must work for our youth to remove migration from their plans… [so they may] build a country based on stability and economic development."