A real Lebanese-American alumna success story
Lebanese-American businessman Alfred Audi grew up sleeping in a Stickley brand bed. His father E.J. had been one of the largest dealers of Stickley furniture in the United States and at a young age Alfred developed a keen admiration and…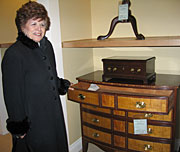 Aminy Audi with an L. & J. G. Stickley chest of drawers.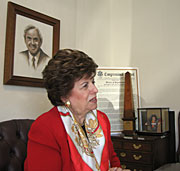 Aminy sitting in front of a sketch of her husband Alfred.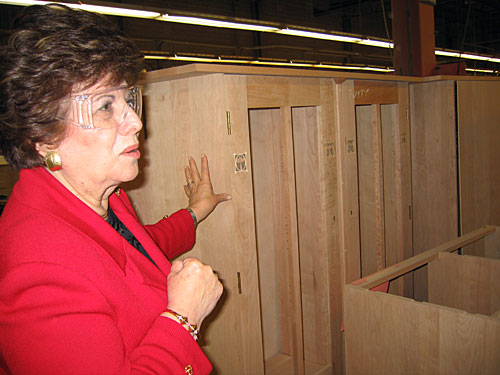 Aminy explains her company's craftsmanship.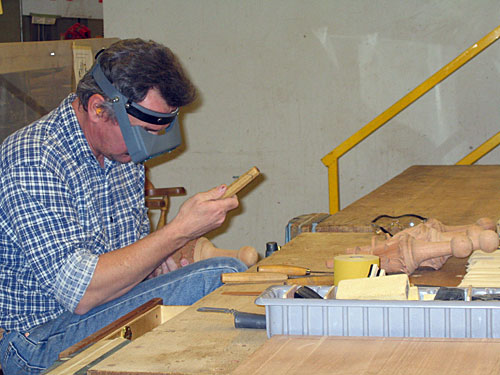 A craftsman at work at the L. & J. G. Stickley factory in Manlius, New York.
Click on any photo above to view all four images
Lebanese-American businessman Alfred Audi grew up sleeping in a Stickley brand bed. His father E.J. had been one of the largest dealers of Stickley furniture in the United States and at a young age Alfred developed a keen admiration and respect for the finely crafted, distinctly American furniture.
In 1974 Louise Stickley, the widow of Leopold Stickly, who, along with his brothers Gustav and John George, founded
L. & J. G. Stickley Co.
in 1900, called Alfred and asked him if he would consider buying the ailing company.
It was a dream come true for Alfred — but he knew that he would have his hands full as the once-great company in upstate New York was dying. With only 27 employees and annual sales that barely eclipsed $200,000, the company was struggling to fill orders and losing its already shrinking customer bases.
When Alfred called his wife Aminy and told her the news, she was both elated and anxious. She knew this was an opportunity they could not refuse but she was also aware of the challenges they would face trying to rebuild L. & J. G. Stickley.
But the couple didn't hesitate. With Alfred handling the manufacturing side of the business and Aminy taking on marketing, the couple set about to rebuild an icon.
Aminy grew up as the oldest daughter in a loving family of nine children in the village of Kfarhazir in northern Lebanon. At an early age, her parents instilled in her the importance of pursuing life with determination and courage as well as living with integrity, compassion and a healthy respect for others.
She attended the Beirut College for Women (as LAU was known at the time) in the early 1960s. She still fondly remembers how diverse the students on campus were even then.
A chance meeting with Alfred, an American of Lebanese decent who was visiting relatives one summer in Lebanon, changed her life forever.
The two fell in love and soon Aminy and Alfred were married and living in New York City.
Aminy finished her studies at New York University and began a career at the Voice of America news radio service, while Alfred worked at his family's furniture business.
Ten years later, when presented with the chance to buy L. & J. G. Stickley, the couple knew it would be a leap of faith.
Given the fact that in the United States one out of every 10 furniture companies fails, the odds were clearly stacked against the Audis.
But despite these difficulties they have succeeded beyond their wildest dreams.
The Audis recognized early on that L. & J. G. Stickley was making more than just pieces of furniture for its customers — it was producing heirlooms that became part of the owner's family. Their focus on quality and innovation helped revitalize the brand and has made it one of the most respected names in American furniture.
But, according to Aminy, L. & J. G. Stickley's success has also derived from the emphasis the Audis have placed on creating an inclusive, family-like work environment. Today the company's 1,600 employees, some of whom are second-generation L. & J. G. Stickley employees, represent 36 nationalities and bring a collective ingenuity to the company that is unmatched.
For its part, L. & J. G. Stickley has innovatively managed its work environments through new technologies and with employee care. For example, the company eliminated smoking in its manufacturing facilities in the mid-1980s, well before most other American companies had done so — and it went a step further by offering to pay employees to actually quit smoking.
One employee even used part of the money that he received from L. & J. G. Stickley for quitting smoking to plant a tree in honor of the fact that somebody cared enough to reward him for quitting smoking.
Today the company also rewards employees for maintaining a healthy weight, and the response to these employee-focused wellness programs has been overwhelmingly positive.
Aminy lost her beloved husband and partner when Alfred passed away in 2007 but she continues to run L. & J. G. Stickley with the same dedication to these core values that she and Alfred brought to the company 35 years ago.