A serendipitous path to learning and friendship
LAU students attend World MUN conference in Melbourne.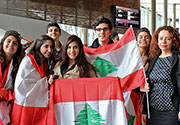 Rigorous arrangements for WorldMUN started to transpire as early as September 2012.
Click on photo for larger version.
Keeping in line with LAU's Department of Social Sciences' yearly tradition of participating in the World Model United Nations (WorldMUN) conference, 20 political science/international affairs students have recently returned from a transoceanic trip to Melbourne, Australia, where they partook in this year's conference on March 18-22.
WorldMUN is an annual MUN conference that takes place in a different international city every year, luring thousands of students and faculty from more than 60 countries. It combines highly sophisticated UN simulation sessions revolving around hotbed international and geopolitical issues with high level lectures and seminars. Policy challenges underlying global governance, democratic globalism, conflicts, foreign policy and development are tackled in a multidisciplinary perspective. The conference is run by students from Harvard University and from the host university with this year's dual hosts being Monash University and RMIT University.
"I experienced this conference through the students' interpretive frameworks, their eyes, their worries, and their excitement," says Dr. Tamirace Fakhoury, assistant professor of political science. "It felt great to embrace their vision, to wait for them in the faculty lounge, to hear them deliver their speeches."
As this year's group faculty advisor at WorldMUN, Fakhoury was heavily involved in monitoring the students' position papers. "The trip from Beirut to Melbourne and back unraveled a voyage into a pleasant unknown," says Fakhoury. Described by the students as "life changing," and "empowering," the trip indeed unlocked discoveries that only a mix of academia, international policy debates, social events and ventures could make possible.
Graduate assistant Khaled Kabbara, who was also actively assisting Fakhoury in overseeing the students' work, says that WorldMUN is one of the biggest youth conferences in the world. "By taking part of it, students are getting introduced to different cultures, forging professional connections while discussing topics of international dimensions."
Rigorous arrangements for WorldMUN started to transpire as early as September 2012. Dr. Marwan Rowayheb and Dr. Jennifer Skulte-Ouaiss, associate and assistant professors of political science, respectively, organized the preparatory measures from which students from the Beirut and Byblos campuses were selected to attend the conference, providing administrative and logistics support to the delegation along the way. The challenging and vigorous nature of this process meant that only la crème de la crème made it to Melbourne.
"One cannot but accentuate the importance of this activity where students get to appreciate the work and importance of the United Nations and learn the techniques of diplomacy and conflict resolution," says Rowayheb.
Political science student Tala Kayed agrees: "WorldMUN showed us the practical aspect of what we've been studying, from negotiating our positions to maintaining a stance. Not to mention the wonderful friendships we made from all over the world."