A sneak peek into Beirut's memory
LAU's Center for Lebanese Heritage hosts a lecture on Beirut's archeological sites.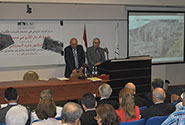 Dr. Hareth Al-Boustani and Henri Zogheib addressing the audience.
Click on photo above for larger version.
As the academic year kicks off, the Center for Lebanese Heritage (CLH) at LAU gets off the ground with a recent talk - the first in a series of monthly lectures - on Beirut's archeological sites, delivered by Dr. Hareth Al-Boustani, a professor of archeology at the Lebanese University.
Since the end of the Civil War (1975-1990) frenetic construction projects have taken over the Lebanese capital leading - until today - to tensions between preservationists and developers.
In 1997, Al-Boustani was quoted in the New York Times, saying that "We are living in the heart of Beirut, and you cannot let the heart die because of archeology." Fifteen years later, the scholar still stands his ground.
Beirut's earliest footprints in history date back to the third millennium B.C. - it witnessed the time of the Ottomans, the Mamluks, the Crusaders, the Romans, the Greeks, and the Phoenicians.
"Beirut is a reservoir of civilizations, a melting pot of cultures, which accumulated over the years. We hope to be able to inquire into every single one of them," said Al-Boustani. "But we don't have the right to do this if it jeopardizes the city's current build."
Indeed, notes Al-Boustani, architecture delineates both the history and development of cultures and civilizations in any given city; destroying society's present-day architectural pillars for the sole purpose of archeological discovery is an abomination.
Al-Boustani distinguished between open-air excavations (akin to the ones that take place in Tyre and Baalbeck, for example) and rescue excavations, with the latter being extremely prominent in Beirut now but mainly right after the Civil War. With the city already in ruins, and many buildings razed to the ground, archeologists seized the opportunity to unearth some of Beirut's subterranean ruins. It was a race against time - the excavations had to be terminated once reconstruction took place.
The recent demolition by a construction firm of what was thought to be a Phoenician port in Downtown Beirut made the headlines this summer.
The incident sparked heated debates, especially since various relics - including dry docks from the Phoenician area, and the remains of a Roman temple from the second century A.D. - were uncovered during previous excavations in the area.
In Beirut, "We have an underground museum under every building," explains Al-Boustani.
Dr. Youssef Hourani, a Lebanese historian, said the lecture was essential. "The history of Beirut pains me," he said. "It's a city that went through so much, and history has left more than a mere fine print on it. We have to look after it, and preserve what it has to give us."
CLH director Henri Zoghaib concurs. "Archeology is important because it helps us look through the memory of the earth. A nation without a memory of its own realm cannot be a populace's home."
Beirut's archeological memory constitutes only a fraction of CLH's interests, however. After celebrating its 10th year anniversary last year, the center's 11th year's cultural agenda is as bustling as ever, with monthly lectures planned throughout the entire academic year. Future discourses will include "Lebanon across the centuries," "Lebanon's urban memory of war," "Lebanese women journalists around the world," and "Lebanon's natural and floral heritage."