A successful USP project: Education is Not a Dream
Play staged in Sidon as a Community Service Project spotlighting the educational and social hardships of the underprivileged raises awareness and inspires hope.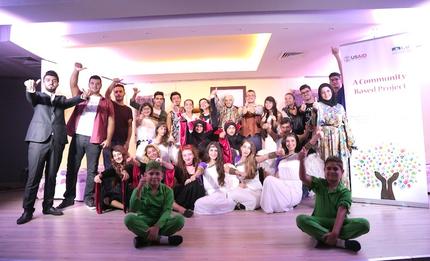 Many take education for granted, but for some, it is a dream that can never be actualized. This idea is highlighted in LAU student Rachid Hneineh's play, Education is Not a Dream (Il 'Ilm mish Hilm), which he wrote and directed as a Community Service Project (CSP). Staged in Hneineh's hometown, Sidon, on August 23, the production reflects what he calls "the problems of the underprivileged people in the community" who face educational and social hardships on a daily basis.
Hneineh, himself, is a beneficiary of LAU's University Scholarship Program VII (USP VII)—funded and supported by the United States Agency for International Development (USAID)—that enables public school graduates to attend a private university. As part of the USP, Hneineh and five other team members became involved in the project, working with underprivileged children and young adults. "LAU is very supportive of this kind of community service work," says Director and Associate Professor of Theater Lina Abyad, "it puts energy into getting in touch with the community."
The play portrays the predicament faced not only by the disadvantaged in Sidon, but Lebanon as a whole, who are deprived of an education because of their financial or domestic circumstances. Two sisters, Zahra and Yasmeen, are forced to quit school after their father is left paralyzed, in order to help at home and in their father's shop.
The story unfolds in their room, where a picture of their late grandfather hangs on the wall, a treasure chest sits between their two beds, and a birdcage holding two birds is suspended from the ceiling. Gradually, each of these mundane ornaments comes to life: the grandfather's portrait interacts with the audience and characters; the treasure chest opens up, and out of it emerge devils and angels; and the birds are transformed into two young boys who help advance the plot.
This magical element and the use of humor serve to deliver a serious message in a light and playful manner, maintaining in the words of Abyad "a balance between education and entertainment." This balance is so well achieved that the reality of those who have no access to education is not lost on the audience. "The comedy aspect is great," says spectator Amen Kassab, "even though the message isn't funny at all."
Nevertheless, the play concludes on a positive note—with both girls remaining hopeful about their future and schooling—conveying the notion that education can be achieved with the right attitude, even when one's circumstances are dire.
The project was realized with the help of Reach Out and Dazzle (ROAD) and the Outreach and Leadership Academy (OLA), led by Assistant Vice President for the Outreach and Civic Engagement (OCE) unit Elie Samia. The teams working on the project," says Samia, "had a vision to expose the underprivileged children of old Sidon to a new experience related to art in their lives."
Putting the production together was not without its difficulties. "There were some problems we faced since the cast and team were very diverse and quite large for a student production," says Mario Chahoud, who took part in the community project as light designer and sound operator, "but the result was worth it and we hope to present the play in other areas around Lebanon."
Indeed, Abyad—who has taught Hneineh and gave her input on the script—believes this should be the case. "The play could definitely be performed in refugee camps around Lebanon in order to influence the youth and show the importance of their education."
More than just a theatrical performance, Education is not a Dream shows that it is possible for people from different backgrounds to collaborate toward creating something great. In Samia's words, "the play epitomizes hope and salvation in the power of education as a great leveler and as a means to achieve upward social mobility."