A winning method
LAU alumna wins big on international stage for an innovative teaching method.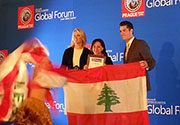 The event brought together more than 500 competitors and government officials from 75 countries.
Click on photo above for larger version.
On December 1st 2012 in the Czech Republic, LAU alumna Youssr Chediac (B.S. in biology '96) received the prestigious global Microsoft Innovative Educator Award.
Each year, Microsoft Partners in Learning, orchestrates an extensive global competition that seeks to identify and award innovators in education from all corners of the world.
This was the first time Chediac participated in the four-day competition and she happily took home the third place prize in the category of knowledge building and critical thinking. The accolade was bestowed in recognition of Chediac's development of the highly acclaimed the Warak Warak method, which is an innovative and original teaching method.
Chediac acknowledged the role that former inspiring teachers at LAU played in her pursuit of a teaching career. "My experience at LAU made a huge impact on my decision to pursue excellence in education," she explains with palpable pride. "I look forward to pursing a master's degree in education in the near future."
According to the founder, the Warak Warak method is a customized teaching blueprint that is proven to build and enhance students' subject knowledge and skills, increase their engagement and keep momentum beyond the classroom. Essentially, this method empowers students to be responsible for their own learning by stressing critical thinking and peer-to-peer collaboration.
The cutting-edge curriculum she has developed is highly inclusive of technology; indeed, much of the material is found online and utilizes social media and other forms of current technology.
In fact, much of her inspiration in developing this teaching method has stemmed from the years of observing students in the classroom. Chediac has been a biology teacher and coordinator for the secondary classes in Gebran Andrawos Tweini Public School in Beirut since 2004. Her accumulated experience has given her a unique perspective on education and spurred her to find innovative ways to engage students and impart on them a thirst for learning.
"I am so thrilled at this win, this is the first time a Lebanese teacher has gone this far," enthuses Chediac. "It is wonderful being able to represent both your country and your alma mater on a global stage."
A prominent international panel of educators served as judges for the competition using a 21st century skills rubric. Lebanon has been participating in this competition since 2009 and this year marked the first time the national flag was proudly displayed on the winning stage.
"This achievement makes the LAU community very proud," says Dr. Tarek Na'was, associate professor of biology and pharmacy at LAU Beirut. "It is very gratifying to see how well our graduates do when they leave the gates of the university," he continues.
"We wish her luck in all her endeavors."
Microsoft Partners in Learning hosts national and regional events throughout the year that recognize innovative educators and school leaders. These competitions culminate in the Partners in Learning Global Forum that, this year, brought together more than 500 competitors and government officials from 75 countries.