A world of possibilities
Student exchange programs enable LAU students to swap places with European counterparts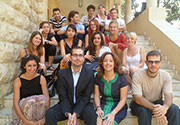 European exchange students receive a warm welcome to LAU by Dina Abdul Rahman, Study Abroad program coordinator at the Outreach and Civic Engagement office.
Click on photo for larger version.
"Most of my friends view Lebanon as a country of never-ending conflict," says Anna Kokko, a student at France's Sciences Po university. "What better way to change that perception is there than to live and study here?"
Kokko is just one of several European students currently at LAU on an exchange program and who are learning that there is more to Lebanon than what the headlines would have them believe. Their time in Lebanon is made possible through the university's involvement in three European Union-funded exchange programs: Dunia Beam, WELCOME and MEDASTAR.
LAU students also have the once-in-a-lifetime opportunity to exchange places with a European classmate at a number of prestigious universities. The exchanges are fully funded and last six to ten months, or even for a full Master's degree.
For many, such exchanges are life-changing trips that introduce them to new ideas, cultures and philosophies. "The development of knowledge, skills and experiences on a global plane is fast becoming a fundamental part of learning at LAU," says Dina Abdul Rahman, Study Abroad program coordinator at LAU's Outreach and Civic Engagement office. "Study abroad opportunities are invaluable as they help students become better leaders and informed experts in their fields."
As an LAU Computer Science student currently on exchange at Newcastle University, Hussein Mohsen is ecstatic at the chance to learn in and about a new culture. "It's been a great experience," he says. "I've made many friends from all over the world and I've been able to take specialized courses in bioinformatics which are not available in Lebanon."
For Kokko, coming to LAU was also a chance to do something new: "I've joined the LAU choir, which is something I always wanted to do in France. I've also benefited a lot from the Arabic program at SINARC (Summer Institute for Intensive Arabic Language & Culture)."
LAU's involvement in these projects is a chance for students to serve as ambassadors for the Arab world, says Abdul Rahman. "Stereotypes about Lebanon and the region are pervasive. These exchanges expose European students to our societies and help dispel misunderstandings."
Arcvin Babajan, a political science student from Brno, Czech Republic, agrees that the exchange has given him a much deeper appreciation for Lebanon. "It's a welcoming place and offers a good balance of cultures." During his time at LAU, Babajan says his English and Arabic language skills have improved, he has benefitted from the university's interactive way of teaching and has enrolled in courses that are not available at home.
The deadlines to apply for these exchange programs are rapidly approaching. For more information, visit: http://students.lau.edu.lb/student-engagement/exchange-programs.php