A young doctor's hopes through the chapters of his book
A much-needed clinical textbook on neuroanatomy basics by second-year resident Mohammad Noureldine a panacea for medical students across Lebanon.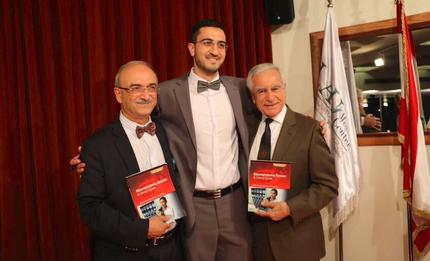 On recognizing the need for a concise textbook on neuroanatomy basics during his fifth year as a medical student, Mohammad Hassan Noureldine, a graduate in neuroimaging and second-year neurosurgery resident at LAU, proceeded to write his own. He soon learned, however, that having it published would entail convincing a publishing house to set a precedent and take a gamble on a student's project.
Nearly two years later, on September 18, Noureldine held his first book signing at LAU Medical Center-Rizk Hospital in the presence of LAU President Joseph G. Jabbra, Dr. Michel Mawad, dean of LAU's Gilbert and Rose-Marie Chagoury School of Medicine, Dr. Ibrahim Saikali, neurosurgery program director and contributor to the book, as well as representatives from Elsevier, an information and analytics publishing company.
The 16-chapter Neuroanatomy Basics: A Clinical Guide is a practical textbook that breaks down the complex field of neuroanatomy for medical students who have struggled with its sophisticated structure for years.
"The school of medicine faces hardships while teaching neuroanatomy, physiology, as well as many other features of the central nervous system," Mawad explained. "Using the self-learning process that the school had taught him, as well as the problem-based learning principle that he had become acquainted with, Noureldine has addressed and solved the difficulties of teaching and learning neuroanatomy."
In addition to becoming a reference book in general, the clinical guide will be available for LAU students at the School of Medicine.
"I think that writing such a book was essential, not only for LAU but also for medical education as such," Saikali said, adding that a clear neurosurgery textbook dedicated to student-teaching has long been missing in all medical schools across Lebanon and the world.
Commending Noureldine on his accomplishment, Dr Rajaa Chatila, assistant dean for Graduate Medical Education at the School of Medicine, noted that productivity in research at every university is the result of teamwork. She acknowledged the school's efforts to encourage research among its students, by creating a fund to support academic productivity, and making research a graduation requirement for some residency programs. Noureldine's achievement, she said, "has put our academic performance at the school on another level altogether … I salute him and all our colleagues who helped realize this dream."
Noureldine had first met Elsevier representatives at the Second International Conference on Medical Education hosted by LAU in November 2015, but convincing them to sign him up while he was a student hinged on a solid premise, a compelling proposal and sheer perseverance.
"Elsevier usually works with professors, researchers, and authors. It was the first time that a student had proposed to write a book. However, since there was a need in the market, Elsevier's publishing department went further with Noureldine's request," Faris Bukhari, an Elsevier representative, declared.
Having impressed them with a sample proposal and well-organized content, Noureldine went on to become the first Arab student in the Middle East to have his book accepted by the publishers.
Mawad acknowledged the values and achievements embodied by Noureldine's accomplishment in creating an indispensable tool for himself, his colleagues and for several generations to come.
When asked what pushed him to write the book, Noureldine explained that, in order for doctors to perform surgeries, they had to have a clear understanding of neuroanatomy basics that formed the core of the neuroscience module. "The goal of writing this textbook was that all previous neuroanatomy books were dense, and lacked illustrations and clinical correlations," he said.
Having come this far, Noureldine urged his peers to work on becoming educators, great physicians and researchers. Medical students who have attained a higher level in the program, he said, should be tutoring those at the lower levels. "They should not compete with one another. The relationship between students should be strong for them to learn in the best possible way."