Accreditation: a culture of continuous improvement
LAU Provost Dr. George K. Najjar shares his thoughts with MarCom about the importance of LAU pursuing NEASC reaccreditation, highlighting the critical role of the LAU community in the assessment process.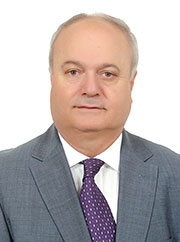 Dr. George K. Najjar says accreditation can only be pursued sustainably as a collective activity involving the entire LAU community.
In May 2010, the Lebanese American University became fully accredited by the Commission on Institutions of Higher Education of the New England Association of Schools and Colleges (CIHE-NEASC). The certification raises the profile of the university and places it among the leading academic institutions in the world. But NEASC accreditation is not a singular process. It is an ongoing effort that ensures continuous self-examination and self-improvement. As such, in preparation for NEASC's follow up visit next year, an overall assessment process has recently begun involving the university as a whole. LAU Provost Dr. George K. Najjar explains the school-wide push.
Why is it important for LAU to get accredited?
As a world-class institution, we know that global positioning is very important and a formal affirmation of such status is a priority; hence, the very special and strategic role of accreditation agencies of which NEASC is a leading member.
Basically, getting NEASC-accredited is a testimony to LAU's deep commitment to academic excellence and community engagement. It is also an acknowledgement that our university is globally and locally relevant, that it is part of the community of institutions of higher learning in the U.S. and the world, and that it is committed to the highest standards of quality and to building a culture of continuous improvement internally.
And this correlates with our strategic plan, which focuses on repositioning the institution and charting its future course in ways that enhance its mission of pursuing impact in the generation, dissemination, and publication of knowledge through research, teaching, and service. 
So, accreditation is a way of affirming that 'you did indeed achieve the objectives that your strategic plan committed you to achieving."
LAU got NEASC-accredited in May-2010, so why are we renewing the process now?
Accreditation is a journey and not just a a destination. In a sense, it is permanently unfinished business, because as soon as you scale a peak, you see a higher peak that beckons you to scale it. We are building a culture of assessment, a culture of constant improvement, of continuity, demonstrating time and time again our commitment to moving forward.
When you say that LAU is building a culture, does it mean that everyone at the university is involved in the process?
Of course, accreditation can only be pursued sustainably as a collective activity involving the entire LAU community: students, staff, faculty, alumni, trustees, administration, and all other stakeholders.
Every person is a major resource in this process, and participation takes multiple ways. We have eleven NEASC standards, and each standard has a chair and a committee comprising about seven to ten members each. On top of its formal membership, each committee calls on many other members in the university to participate in surveys, in interviews, in focus groups, in forums, asking them to assess where LAU stands at this point in time and charting the course forward to getting where we need to be.
How important is the individual accreditation of specific programs within the university, or the programs themselves, to the overall NEASC accreditation?
Well, like all major universities, we pursue accreditation at two levels. There is institutional accreditation for the entire university, and that's where NEASC fits in; then you have a series of program accreditations or school accreditations offered by specific bodies in specific areas. The two levels go hand in hand and complement each other. Actually, many program accreditation bodies expect you to achieve institutional accreditation before they visit.
How confident are you that we will get reaccredited?
Very confident because we are doing the work methodically, regularly, with total transparency and with a lot of experience. So there's a learning curve at work here, and that's very important. But the most challenging task is transforming work on accreditation into a culture of continuous improvement within, wanting to be today something better than we were last year. This is the essence of accreditation.