Activist tells students to look for "humanity in others"
Dr. Omnia Marzouk has dreams to build a better world and urges LAU students to work together to create change.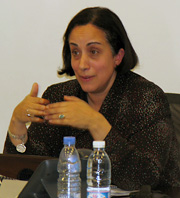 Dr. Omnia Marzouk, a pediatric emergency physician in the U.K. and an activist for intercultural dialogue, tells the audience how she would go about building a more tolerant world.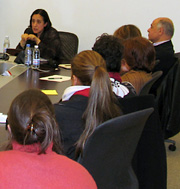 Marzouk gave a presentation to students and faculty in the library's Dr. Najla Atiyah Room, at LAU Beirut.
Dr. Omnia Marzouk is a pediatric emergency physician who lives in the U.K. and serves as the director of the largest children's emergency room in Europe. In her spare time, she travels the world as an activist trying to foster intercultural dialogue and understanding between different faith groups.
This inspirational woman came to LAU Beirut on March 9 to talk with students and faculty about her experiences with multiculturalism, tolerance and building a better world.
"We need to recognize the humanity of the 'other side,'" she told an intimate audience in the library's Dr. Najla Atiyah Room.
"If you stay within yourself or a homogenous group, things might certainly be easier, but life is multicolored and the challenge of the century is how to find humanity in other people," she added.
"I found Dr. Marzouk to offer the audience both examples of change from the 'real world' as well as how to develop one's inner resources to meet the challenges of going against corrupt, unfair, violent practices to build a better world," says Dr. Jennifer Skulte-Ouaiss, assistant professor of political science and international affairs in LAU's Department of Social Sciences, who organized the event.
Marzouk emphasized that change really does start within one person who then partners with other like-minded individuals, which can turn into a critical mass necessary to enact big changes.
"What happened in Egypt is amazing," said Marzouk, an Egyptian Muslim and daughter of an Egyptian diplomat. "It was mainly 15 to 25-year-olds who toppled a government — what more do you need to know you can make a difference?"
Sculte-Ouaiss would like to see LAU students discover that they have the ability "to be the change they seek" in society. "Too often, our students have internalized the apathy that they see in society to the extent that they feel that positive change is just not possible — that it is, in fact, naive or too idealistic to even think that (radical) positive change is possible," she says.
"We who teach at LAU need to work more to inspire our students to be leaders for change in their families, communities and the world at large — and give them the tools to do so," she adds.
Sculte-Ouaiss organized the event at the recommendation of a friend, Assaad Chaftari, who works toward building interfaith coalitions and increasing tolerance in Lebanon. The event was co-sponsored by LAU's Department of Social Sciences and Institute for Women's Studies in the Arab World.
Marzouk is a member of the International Council of Initiatives of Change, an international non-profit organization dedicated to "building trust across the world's divides" of culture, nationality, belief and background, according to its website.