Addressing Violence with Art
Institute for Women's Studies in the Arab World event showcases art dealing with violence against women as part of global campaign.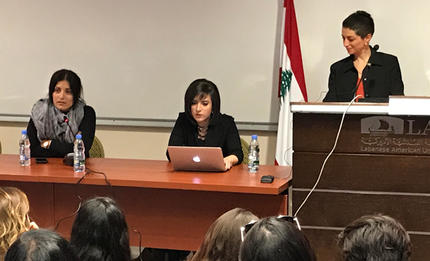 "During 16 Days, we celebrate our progress and lament over regress… And we look for ways to gain people's attention to take our movement forward," said Lina Abirafeh, director of LAU's Institute for Women's Studies in the Arab World (IWSAW). She was speaking to an audience of artists and activists gathered on Beirut campus on December 7 to mark the global campaign 16 Days of Activism Against Gender-Based Violence.
The event was the latest in a series called Food 4 Thought hosted by the institute. It included a discussion on the role of art in ending gender-based violence and a presentation by Jordanian feminist and artist Rand Abdelnur. In addition, works submitted as part of IWSAW's second annual art competition were showcased at the event.
"We are galvanizing artists and offering new forms of expression for activists to raise awareness and attention," added Abirafeh, explaining the desired impact of the competition, which was launched last year. This year's contest was held in partnership with ESCWA and the UN Population Fund (UNFPA). Artists were invited to submit a piece in any medium that answered the question, "Violence against women: Whose problem is it?"
"Based on the 75 entries we received, it's clear the answer is everyone," said Mehrinaz Al Awadi, director of the ESCWA Center for Women, who spoke about the impact of her experience meeting survivors of gender-based violence and her determination to fight against it. "Violence against women is an issue that sadly defined my time, but doesn't have to define yours," she told members of the audience.
Among them were LAU students Rita Abi Daoud, Emma Nader, Imad Barakat, Jana Abi Ghosn and Pia Maria El Khoury, who together produced the contest-winning short film about a survivor of rape who is vilified by members of her community. The winners, along with their work, will be featured on Lebanese and regional media platforms, in addition to those affiliated with ESCWA, UNFPA and IWSAW.

The contest-winning short film.
Abdelnur congratulated all the participants and presented her own work related to violence against women. Prior to a change in the law earlier this year, her work centered around Article 308 of the Jordanian Penal Code, which allowed rapists to avoid punishment by marrying their victims. "Art can create conversations and trigger action," said Abdelnur. "It is, however, up to the viewer to be impacted and to react."
Gender-Based Violence Coordinator for UNFPA in Lebanon Noushig Etyemezian concurred, calling art a means for social change. "It can foster dialogue… and create empathy for women's stories… I have spoken to many survivors of violence. When they trust you to listen to their story, which they don't even talk to themselves about, it pushes you to make a change."
"We are always looking for new ways — looking for EVERY way — to get people to pay attention," said Abirafeh. "We want to both galvanize artists for our cause and also offer new forms of expression and action for activists to raise awareness, to change behaviors, and ultimately to end gender-based violence."