Adnan Kassar School of Business gains AACSB accreditation
LAU's school of business earns prestigious accreditation and joins the select five percent of business schools worldwide.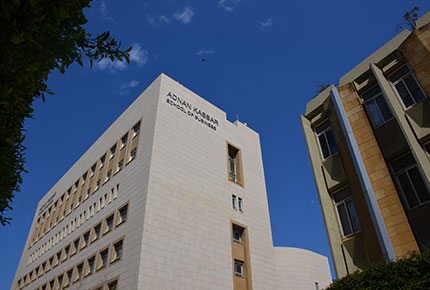 Friends, faculty and students of the Adnan Kassar School of Business were celebrating over the weekend after learning that the school had earned the Association to Advance Collegiate Schools of Business (AACSB) accreditation, the most prestigious accreditation granted to only five percent of business schools worldwide.
Chief accreditation officer of AACSB International Robert D. Reid congratulated LAU and the school on successfully completing the multi-year process that led to the accreditation. "LAU confirmed alignment with 15 global accreditation standards, while demonstrating how they achieve success within each of the three pillars on which AACSB accreditation rests – engagement, innovation, and impact."
Reacting to the news, LAU President Joseph G. Jabbra declared: "We need to make sure that we become the unchallenged leader in business education and a hub of enriching activities, worthy of our new status, in Lebanon, the MENA region and beyond."
AACSB's accreditation standards require excellence in areas relating to strategic management and innovation; student, faculty, and staff as active participants; learning and teaching; and academic and professional engagement. Thus, LAU's success at attaining the accreditation is testament to its holistic approach to education.
Interim Dean Said Ladki, congratulated and thanked the faculty and staff at the school. "This monumental task would not have been accomplished without the hard work and dedication of all of the school's family."
Business school faculty member Walid Marrouch shared his joy on the LAU Facebook page: "Heartfelt congratulations to all my colleagues … for this great achievement. Your hard work over the past five years finally paid off. Our students can be proud today of being part of our internationally recognized school of business." Equally delighted was Salpy Indjeian Mardirian, whose children are graduates of the school's economics program and students of its M.B.A. program. "This news makes me so proud and happy to have made the correct choice in LAU."