Adnan Kassar School of Business celebrates class of 2017
Cheerful and confident in their abilities, hundreds of Beirut campus graduates of LAU's prestigious business programs celebrated their graduation.
With family, friends, and a plethora of cameras bearing witness, the nearly 600 graduates of LAU's Adnan Kassar School of Business today marked the high point of their academic journeys.
With Verdi's Triumphal March resonating throughout the Beirut campus, they walked in succession under an archway decorated with white flowers and waved to proud relatives and friends as they reached their designated seats, flanking the audience.
"He is a man of many strengths, which LAU now embodies as institutional qualities," said Provost George K. Najjar, welcoming LAU President Joseph G. Jabbra to the podium. "He dreamed and achieved, is considerate and demanding… a man for tomorrow, today," said Najjar.
Jabbra stood in his doctoral regalia as he addressed the graduates, who had each earned a bachelor's or master's degree in one of the many disciplines offered by the AACSB-accredited school.
"You dear graduates are a reflection of our values… I wish you a heartfelt 'congratulations,' and to your families many thanks for all they did to ensure your success," said Jabbra, inviting the graduates to offer a round of applause as a token of gratitude for the sacrifices their parents made.
"No matter where you are, no matter where you go, don't forget us," he said.
Valedictorian Marwan Hteit was warmly introduced by provost Najjar. "He embodies the LAU ethos of sacrifice, excellence, hard work, commitment to service and lifelong learning," said the provost.
"Today we celebrate the end of our journey at this prestigious university that has opened the doors for us into the real world, that has pushed us persistently beyond our limits, towards academic excellence, personal and social development, promoting respect, equality and being a true source of inspiration to every one of us to become leaders in our society," said Hteit.
"Allow me today to emphasize the importance of sustaining this success," he said to fellow graduates. "Without commitment we will never start, and without consistency we will never finish. We need to be dedicated and committed to the journey," he said.
The ceremony proceeded with the bestowal of an honorary doctorate in humane letters upon BLOM Bank Group Chairman Naaman Azhari.
"We are in need of you, to stand up to the deteriorating political and economic situation in Lebanon," said Azhari, addressing the graduates.
Offering hope and encouragement, he added that the perceived stability of the country, improving relations with Arab countries and the stable pound all played significant roles in ensuring future prosperity and creation of more jobs.
One by one, the names of the graduates were then read out and with each, loud bursts of cheers and applause would erupt from a different area of the crowd.
"It is a dream to be here and celebrate her growth and success," said Zeinab Atwi, whose daughter Jana was among the graduates. "She has so much to offer Lebanon."
Welcoming Jana and all the graduates on stage alongside the president and provost was the dean of the business school, Said Ladki, who was himself also celebrating the achievements of his children, Kareem and Bilal, who graduated with high distinction.
Also graduating with high distinction was Mohamad Shatila, who attributes his success to hard work, good instructors and a holistic program. "LAU doesn't just focus on academic education, they care about our social welfare, and promote civic engagement," he said. "The program ensures we take courses in other domains and become well-rounded," he said, describing one of the takeaways for his new journey.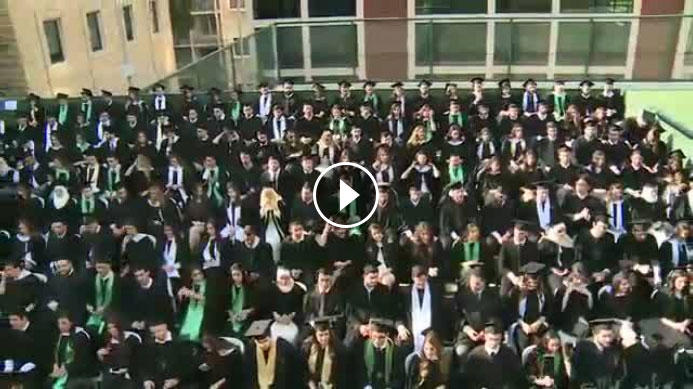 Watch the event on LAU's Facebook page.


Look around an interactive gigapixel panorama of the ceremony.