Adopting a pragmatic approach to legal and medical translation
In collaboration with the Embassy of Switzerland in Lebanon, LAU brings professionals and students together to impart new experiences and ideas in the field.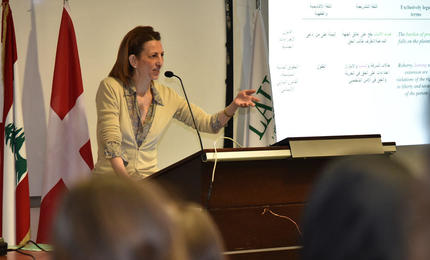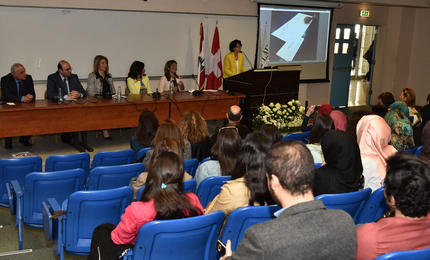 Students from different universities and professionals gathered at LAU Beirut this week to attend a two-day symposium on pragmatic approaches to medical and legal translation.
"The aim of this event is to keep students up to date with current research and developments in the field, and to put them in touch with other students and professionals," said Associate Professor Nuwar Diab who organized the event in collaboration with the Embassy of Switzerland in Lebanon.
Program coordinator of the B.A. in translation, Diab took the opportunity to announce a future student exchange program between LAU and the Faculty of Translation and Interpreting at the University of Geneva (UNIGE).
"I hope that our collaboration with LAU will bring Swiss and Lebanese teachers together to develop fruitful relationships and exchanges," said Ambassador François Barras, adding that the Swiss academic institution the university is preparing to partner with was "one of the best in the world."
With the current international migration crisis, the focus of the symposium had a special resonance. In his welcoming note, LAU President Joseph G. Jabbra reminded the audience of the importance of interpretation and translation at a time of major global displacement, where refugees "need to access proper health care, and know about laws and their rights in the host country."
To overcome the obstacles faced by health professionals and migrants in medical settings, UNIGE has created an innovative speech recognition translation mobile and online application called BabelDr, that is specialized for medical translation dialogues in situations of abdominal pain and cholecystitis (gallstone stuck in the cystic duct) diagnosis.
BabelDr was developed at the request of Geneva's largest hospital to help physicians deal with migrants, especially Arabic-speaking refugees from Eritrea, Afghanistan and Syria, who form the majority of asylum seekers in the country, explained Sonia Asmahène Halimi, assistant professor and co-director of the Translation Department and head of the Arabic Unit at UNIGE.
"Professional translators are expensive, telephone interpreting services not practical and bilingual doctors very rare. As for Google Translate, it is proven to be efficient mostly for European languages, not for Arabic," she said. "BabelDr could come as an alternative based on a linguistic and statistical approach, as everything is translated in advance."
A professor of computer science with special interest in software engineering, Dean of the School of Arts and Sciences Nashat Mansour, raised concerns about machine translation. "Current machine translation solutions are useful, especially when they address narrow and limited domains, but they are never perfect," he said "There will still be a strong need for human translators, at least for the next few decades."
Nour Nasser, a second-year student in translation at LAU has been working as an interpreter with NGOs dealing with Syrian refugees in Lebanon. She echoed Mansour's sentiment. "Human compassion is crucial when dealing with human beings who have been through hardship. As a Lebanese interpreter, I have both an understanding of Syrian expressions and body language as well as a knowledge of Western culture that a machine will never get."
Halimi also shared her expertise on the challenges posed by legal translation, emphasizing that students need to "have a practical approach to translation and follow a strong methodology based on documentation and terminology."
The issue, Halimi pointed out, lies in the differences between the countries' legal systems even if they share a common language, as is the case with the Arab-speaking region. She explained that terms used to translate 'courts', for example, vary according to each legal system, adding that the best approach would be to fully understand the function of the term in the source language, then try to find its correspondent in the target language.
Her presentation was followed by a panel composed of a sworn translator, a notary public, an attorney-at-law, an interpreter, and an expert in the verification of handwriting and fingerprints.
From the procedures involved in becoming a sworn translator to ways of identifying falsified or forged legal and confidential documents, the experts shared their experiences emphasizing the importance of accuracy, confidentiality and authenticity in dealing with clients.
"They gave us real tips," said Hoda Hilal, a second-year student at LAU. "In fact, this session made me realize the responsibilities that lie with us as translators, and it helped me reconsider the different specialties in interpretation and the career opportunities available."
For Hilal, this symposium, which forms part of a series of events regularly organized by the program, was a confidence booster. "We feel that our university really cares about us and our career path after LAU. Our professors bring in people who give us real insight, and are constantly guiding us, showing us how to maximize what we have learnt in class and make the right choices."