Advancing patient care through interprofessional education
LAU hosts conference on interprofessional collaboration in the health sciences.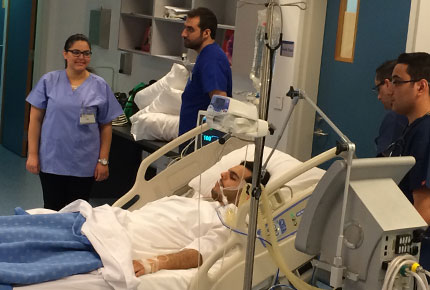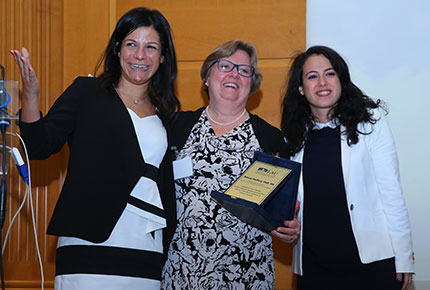 According to the National Academy of Medicine in the U.S., nearly 400,000 patients die in hospitals each year as a result of avoidable medical errors. One recommended solution is enhanced collaboration between healthcare professionals, that is, getting doctors, nurses, pharmacists and others involved in patient care to learn from and talk to each other.
"LAU has been a leader in this approach," said LAU President Joseph G. Jabbra in his welcome address to approximately 150 healthcare professionals gathered on April 15 at the Metropolitan Hotel in Beirut to learn about the benefits of interprofessional collaboration from several leading international experts. Sponsored by the LAU Interprofessional Education Program (IPE), the event was "an opportunity for all of us to be introduced to and to adopt this new approach to health education, which is so important and essential in promoting the quality and safety of healthcare," stressed Jabbra.
Dean of the Alice Ramez Chagoury School of Nursing Nancy Hoffart, the inspiration behind the university's IPE program, noted that the conference comprised professionals from "nursing, pharmacy, medicine, nutrition, physical therapy, respiratory therapy" and other health disciplines from 20 hospitals and universities across the country. The participants' demographics "show that at LAU we are really committed to bringing people together from across the disciplines," she enthused.
The conference was held under the patronage of Lebanese Minister of Public Health Wael Abou Faour, who was represented by Joseph el-Helou, the ministry's director of medical care. Encouraging IPE, el-Helou declared: "The more there is efficient collaboration among disciplines – whether administratively or technically – and exchange of opinion and knowledge among health experts involved, the better the medical service will be."
The opening ceremony concluded with an inspiring intervention by Martin S. Loyato, assistant professor of music at LAU, who conjured up "improvisation and conscious listening" — key collaborative elements of jazz — and urged the participants to inject them into their own healthcare practice.
The day featured a keynote address by Alan Dow, assistant vice president of health sciences for interprofessional education and collaborative care at Virginia Commonwealth University, as well as plenary speeches by Brent Foreman, assistant executive director of nursing quality and patient safety at the Hamad Medical Corporation (Doha), and Saleem Kibwali, a consultant for Joint Commission International, an organization advocating interprofessional collaboration in the medical field on the international level.
According to Nadine Zeeni, coordinator of the IPE program, the conference was a resounding success, "because we were able to bring together so many different healthcare professionals … there was no such conference in Lebanon before." In her view, the next step is to create an alliance for interprofessional education and collaboration in Lebanon, so that the concept could be fostered across institutions beyond LAU itself.
The event of April 15 was followed by a full day of workshops at the LAU Byblos campus, in which the participants took advantage of the Clinical Simulation Center to put into practice the principles of interprofessional collaboration discussed the previous day.