All the world's a stage
LAU students and alumni make waves at local and regional summer art festivals.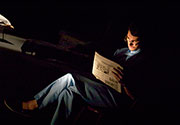 Student theater production A Crime in a Hospital.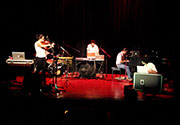 The BLOK Laptop Orchestra performing at the Backstreet Festival in Alexandria, Egypt.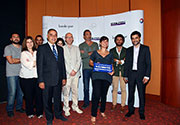 LAU alumna Tamara Stephanyan received Best Fiction Film Award at the Lebanese Film Festival for her film February 19.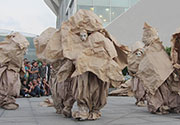 Communication arts students participated in different workshops during the Alexandrian Backstreet festival, including an art of puppetry workshop.
Click on any photo above to view all six images.
The presence of LAU was felt strongly in festivals over the summer—current students and alumni earned great acclaim at the September Mishkal Festival and the Lebanese Film Festival that took place in August.
"Here at LAU we are very proud of our communication arts students — both past and present — and it is important for them to get exposure beyond the gates of the university and have a platform to test their product," says Dr. Mona Knio, chair of the Communication Arts Department.
"Seeing how audiences react to your work is the most important thing for an artist," she adds.
LAU communication arts students made quite an impression at Masrah al-Madina's Mishkal festival - that showcases young talent in the domain of music, theatre, and cinema - where they directed and exhibited three playwrights: Chairs by Ranim Halabi; Crime in the Hospital by Mazen Saadeddine; Women in War by Rami al-Rabih.
Additionally, LAU made an impressive showing in the music component of the four-day event with a crowd-pleasing performance of the BLOK Laptop Orchestra, a music group composed of talented LAU students who boldly push the boundaries of electronic music.
"Mishkal gave me great motivation to pursue my artistic endeavors," says LAU third-year communication arts student and BLOK member Firas Bou Zeineddine. Indeed, Bou Zeineddine and his seven other band mates were unexpectedly approached by a local production company who offered to produce a future show. This surprise offer comes on the heels of BLOK's international exposure—the group performed recently in front of a rapt audience in Alexandria, Egypt, during the Backstreet Festival. Some LAU communication arts students participated in several workshops organized during the event that focused on art in non-traditional spaces.
Earlier in the summer LAU also made a strong showing at the 10th Lebanese Film Festival.
The event evoked nostalgia for LAU alumna Tamara Stephanyan who made her film debut in 2005 at the festival. Stephanyan majored in communication arts with an emphasis on radio/TV and reflects fondly on her time at LAU: "I began my film career at LAU."
This year she showcased her film  —a contemporary reflection on the dynamics of Lebanese and Armenian society. The film received wide acclaim and Stephanyan received the highly coveted "Best Fiction Film Award." A native Armenian, Stephanyan reflects on the importance of her experiences in Lebanon to her work: "Lebanon is living in a complex temporality, where there is no real beginning, middle, or end. We as filmmakers are influenced by this particular rhythm and tempo."
LAU alumna Amanda Homsi Ottoson also received special mention for her documentary Jasad and the Queen of Contradictions—chronicling the life of activist, writer and LAU instructor Joumana Haddad.
The festival opened with part-time LAU faculty member Wafa'a Halawi's film We Might as Well that traces women's lives within one of the few preserved historical buildings in Beirut.

"Partly whimsical and partly true—this film is a collaboration of dance, stop motion and time-lapsed cinematography and architecture," explains Halawi. We Might as Well originally premiered at the Cinedans Film Festival in Amsterdam—one of the most prominent dance festivals in the world.
"I was very happy and proud of the LAU alumni on their success at the festival!" exclaims Halawi.
"This shows the impressive pool of talent we have here at LAU," she adds.