Alumna films at 40,000 feet
Award-winning LAU filmmaker Farah Al-Hashem shoots a film on an airplane and wins far more than air miles.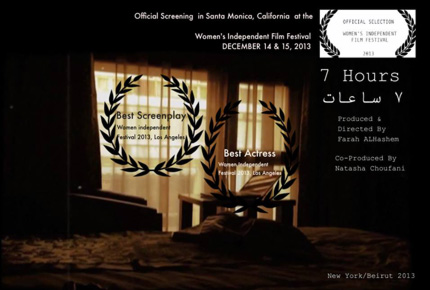 While most passengers on the plane were busy worrying whether they would choose chicken or beef, wondering how to sleep comfortably in an uncomfortable chair, or wishing the baby across the aisle would stop crying, LAU alumna Farah Al-Hashem was busy making a film. She wasn't typing the screenplay away quietly on her laptop, however. Instead, she actually filmed the movie on her iPhone, assigning herself the leading role. "Seven Hours is a story about two people in two different cities, Beirut and New York," Al-Hashem says. It's about two people in love and how their relationship changes because of the seven-hour time difference between them. This time difference changes their emotions and feelings and thoughts."
The film has been a runaway success. Seven Hours won in the "Best Short Arab Film" category at ÉCU-The Independent European Film Festival 2014. ÉCU included the film on its "On the Road" tour, with the result that it has been screened in Cannes this year as well as in Rome and Moscow. It is also scheduled to be screened in several U.S. cities (Chicago, New York, L.A.), as well as in China, Nepal, India, Romania and 21 other international locations.
Seven Hours also won "Best Screenplay" and "Best Actress" at the Women's Independent Film Festival in Santa Monica, California in 2013. It was chosen to be part of Cabriolet Film Festival in Beirut this year and has already been screened in Gemmayzeh along with other award-winning films that will tour 16 European festivals next year. Al-Hashem's masterpiece was also selected for screening at the 14th Venetian Biennale, continuing through October 2014.
Al-Hashem attributes her success to her teachers at LAU. "When you say LAU, I hear (faculty retiree) Ramez Maluf and (Associate Professor) Lina Abyad. You could say they were like godparents during my journey at LAU," she says. "I can't imagine any better educational experience. Their amazing classes and constructive criticism shaped how I write, how I see art and how I express myself through it. From working on the first issue of the Daily Tribune, to performing on stage and learning so much about lighting, design, and history of theater, LAU opened my eyes."
After graduating from LAU, Al-Hashem completed an M.F.A. in Cinematography and Film/Video Production at the New York Film Academy. While living in the US, she made three films in New York and two in Hollywood. Al-Hashem says of this experience, "I was so nervous back then — I didn't know my style in filmmaking. I wanted to grow cinematically very quickly but then I realized that I should just give in and let things happen automatically. That's when something happened in my life that shook my belief system to the core. I realized that I should rotate the camera toward myself and start filming." Al-Hashem believes that learning starts when one turns the camera inward and observes him/herself first and foremost. "That's when we start understand how to tell a story."
As for her plans for the future, she has already started shooting her first feature film,
Breakfast in Beirut
this June, and plans to complete it by the end of fall 2014.