Alumnus donation boosts engineering research
CEO of ENJM SAL Joe Abi Ghosn ('01) makes a $160,000 donation toward naming a combustion lab in honor of his father.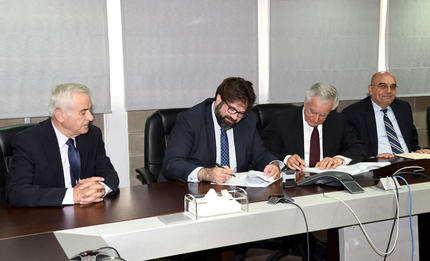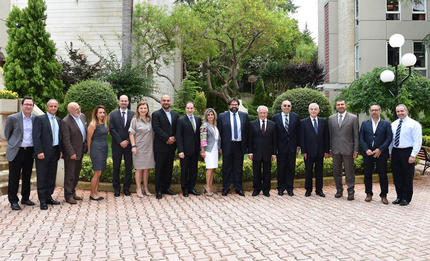 Students and faculty of LAU's School of Engineering will soon be able to take their research one step further thanks to Joe Abi Ghosn, a 2001 graduate and current CEO of ENJM SAL who has pledged $160,000 toward a naming facility opportunity: the Edward Abi Ghosn Internal Combustion Engines Lab. The new lab that will bear the alumnus' father's name is slated to open in Fall 2017 within the new Engineering Laboratories and Research Center on LAU's Byblos campus.
Gathering Abi Ghosn, his father, and several LAU academic and advancement leaders, the signing ceremony was held at the university's Byblos campus on June 14 and signified the alumnus' commitment to his alma mater, and to leaving a lasting legacy on LAU's campus in the name of his father.
"I am very proud to give back to a university that has provided me with so much culture and experience," said Abi Ghosn, who earned a B.S. in business management from LAU.
The Edward Abi Ghosn Internal Combustion Engines Lab will be a major asset to the school as it will include gasoline and diesel engines that are equipped with complex and efficient instrumentation, allowing students to measure important performance parameters that are useful in engine design and development. Such parameters include power, torque, speed, and fuel consumption.
"The lab will provide a teaching environment that helps faculty impart knowledge to students in a practical way," explained Dean of the School of Engineering George E. Nasr. "It will allow students to perform a variety of tests that will ultimately lead to understand and improving the performance of an engine," he added.
"Joe has never forgotten what LAU meant to him," said President Joseph G. Jabbra in his speech at the ceremony. "No matter the situation and whenever we need him, he has been very generous toward our causes and various special initiatives. We are so grateful," he added.
Reaching out to alumni, friends, and corporations for support is key to implement the university's strategic plan that aims to foster intellectual capital and strengthen research, be at the cutting-edge of innovation technologies and disseminate knowledge beyond our frontiers.
One of LAU's development directors, Nicole Barghoud, explains that it is a win-win situation. "Such associations are significant to both parties as they allow alumni to show appreciation to their alma mater and leave a lasting mark, while providing the university with the resources needed in its pursuit of academic excellence," she said.
Abi Ghosn has had a strong affinity to LAU since graduating, and often links the success of his companies to his time spent at the university. This has encouraged him to be an active alumnus, as well as a donor to the institution since 2014.
"Joe is an alumnus who really stands out," said LAU Vice President for Alumni Relations Abdallah Al Khal. "I was very proud to see that one of our very own alumni is supporting his alma mater as this shows trust in the university and encourages other alumni to follow suit," added Al Khal.