Amal Sarieddine: a growing name in the international world of fashion
LAU alumna takes her spring summer collection to Couture Fashion Week in New York City.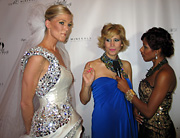 A growing number of fashion journalists are attending Amal Sarieddine shows.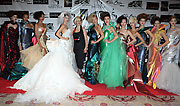 Amal Sarieddine Spring Summer 2012 Collection.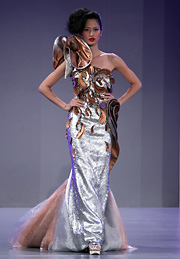 Unique intricate sewing and embroidery techniques are used for this evening gown.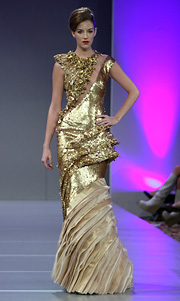 A classy golden dress reveals Sarieddine's taste for luxury.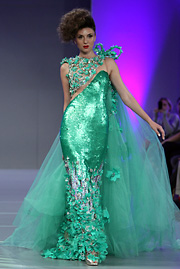 Amal Sarieddine says her lavish dresses belong to the fairytale world.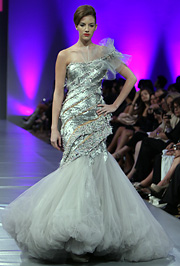 From gold to silver, dark red to fresh flashy green, the designer's inspiration is translated into infinite colors.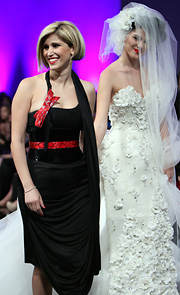 Sarieddine's Spring Summer 2012 bridal dress.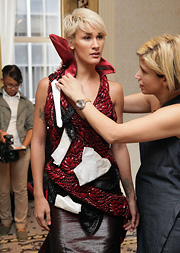 The designer at work.
Click on any photo above to view all eight images.
Lebanese fashion designer and LAU interior architecture graduate ('00) Amal Sarieddine has just returned from New York City, where she participated in the prominent semi-annual Couture Fashion Week.
Widely known for her lavish evening and bridal gowns, Sarieddine presented her "Sensual Lines" Spring Summer 2012 collection at the Waldorf-Astoria hotel in Manhattan on September 16.
The Amal Sarieddine show featured 17 dresses, characterized by fine embroidery seamlessly mixed with elaborate embellishment shaped in rigorous geometrical lines flowing around the body.
"This is the third time I've taken part in the event, and the feedback I'm getting is better each season," she says.
Sarieddine's growing name in the business has caught the attention of industry professionals, who are coming to her shows in growing numbers.
"I launched my first collection in 2004, and in just a few years have managed to make my mark," says Sarieddine.
She says the key to her success stems from the distinctive sewing, embroidery and embellishment techniques she learned from her mother, Nawal Sarieddine, who opened her own fashion design house some forty years ago.
"I use the traditional and authentic techniques of older generations of tailors," she says, "in contrast with the new reliance on assembly-line production and outsourcing of embroidery and assembly to China or India."
Sarieddine's workshop is preserving this heritage, with trained tailors — many of whom began their careers under her mother — passing their knowledge on to a younger generation.
Sarieddine has presented her collections in Los Angeles, Paris and various fashion capitals in the Middle East. She now has prominent clients in the U.S., Europe, Lebanon and the Gulf countries, where royal family members are her main customers.
"My main challenge today is to branch out from my career in fashion into the world of interior architecture and home collections," she says, adding that her time at LAU fostered her ambition and creativity.
"LAU opened my eyes to the world. I was taught by the best professors how to turn my ideas and vision intro a creative reality," she says.
Sarieddine also expressed enthusiasm about LAU's initiative to establish a degree program in fashion design next fall.
"Until now students who wanted to specialize in fashion had to pursue their studies abroad," she says, adding that the "brain drain" afflicts designers as it does other professionals in Lebanon.
"The new program may help to keep their talent and industry at home, and their work closer to their culture," she concludes.