Aspiring filmmakers weave short stories inspired by regional revolutions
A group of filmmakers and screenwriters gather at LAU Beirut to write, direct and produce one-minute films during a weeklong workshop.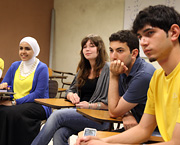 Participants follow an instructor's lecture on the first day of the "Harrer, Harrer" filmmaking and storytelling workshop.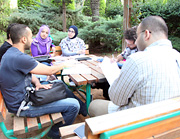 Group members work on developing their scripts during an outdoor session at LAU Beirut.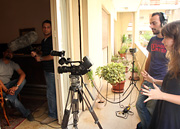 Workshop participant Alexandra Kassir (right) directs her short film in Achrafieh.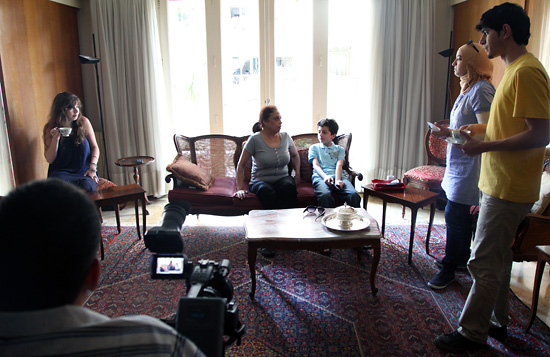 Workshop participant Rania Itani (2nd from right) directs her short film in Achrafieh, with the help of assistant director Abd Al Rahman Abiad (1st from right), a fellow participant.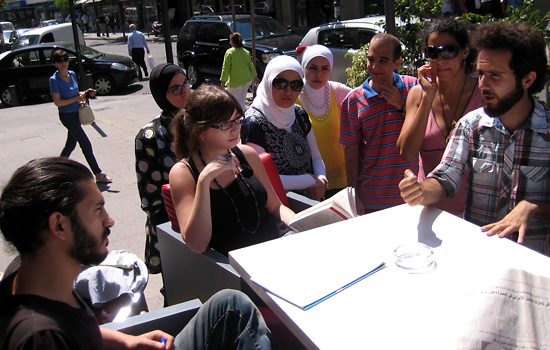 Participant Saad Kadiri (right) preps his main actor while on location in Hamra.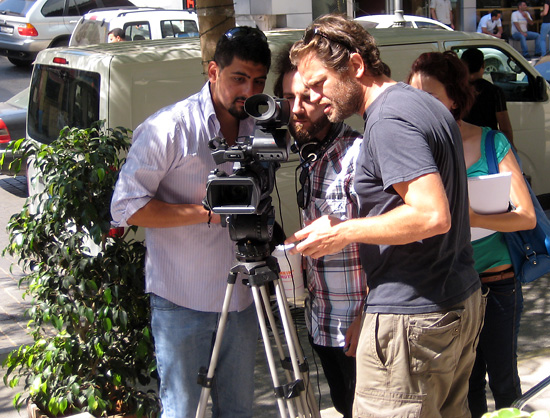 Wajdi Elian (right) supervises cinematography on Kadiri's production in Hamra.
Click on any photo above to view all six images.
If you only had one minute to tell a story inspired by the recent uprisings in the region, what would you say?
A group of 15 aspiring scriptwriters and filmmakers learned the art of creating a fictional story and turning it into a one-minute movie, at the "Harrer, Harrer" workshop held at LAU Beirut from June 14-20.
"Harrer, Harrer," which means "liberate" in Arabic, is a traveling workshop put on by the Doha Film Institute in Qatar and it was hosted in Lebanon by the Department of Communication Arts at LAU Beirut.
Participants were asked to "find their personal connection to the recent revolutions in the Middle East and tell personal but fictional stories … in one-minute films," according to the DFI website.
"The group ranged from LAU students to professional people in their early 30s," says Niam Etany, a part-time instructor of screenwriting at LAU Beirut as well as an alumna (B.A. '00, M.A. '05). "None of them had experience working on fiction and none had written a script before," she adds.
Etany and Ritesh Batra, manager at DFI's Education Department, supervised the theoretical and practical aspects of the workshop.
Throughout the week, the participants learned the A-Z of storytelling and scriptwriting.
On the third day, each one had to finalize their original scripts and pitch them to the group. Everyone gave grades and voted on four out of the 15 to advance to the final filmmaking stage.
By day four, the workshop participants were creating shot lists, and working on sets and logistics for shooting the four selected scripts.
The final days were devoted to filming and editing. On the last day, participants finally got to see their hard work on the big screen in Irwin Hall Theatre.
"They were divided into four groups, each consisting of a director/writer, an assistant director, and a producer. They worked with professional camera people and editors to take their films from pre-production to production to post-production," says Etany.
Each film was restricted to a single location, and group members got to try on their acting chops.
Third-year LAU communication arts major Manar Wehbe says she gained invaluable experience from the workshop. "I had never produced a short movie before. I really learned a lot by watching people direct, but I also helped them in some technical stuff because I'm already a film student," she says.
"I loved the storytelling part. It was very fun and inspiring to discuss each other's stories," says Alexandra Kassir, one of the workshop participants. "Making the film was a great learning experience too, but I realized how hard it is to translate a written story into a film and keep the same flow and emotions."
Etany says that most of the group members were surprised at how challenging it is to film just a one-minute story, giving them a new appreciation for movies on the big screen.
Etany hopes "Harrer, Harrer" becomes a yearly event. "Our country has a film-viewing culture, not necessarily a filmmaking one, so it would be great if we could attract people from other fields to spread the filmmaking experience," she says.
Also, "the fact that it's a free workshop is very encouraging because we suffer from a lack of funding in Lebanon," she adds.
Jordan, Egypt, Tunisia and Morocco also hosted the workshop. According to the DFI website, the films will be uploaded and distributed on a web platform and become part of an international exhibition that will be launched at the 2011 Doha Tribeca Film Festival, to be held in October.