Ambassador and cartoonist teach about peace and justice
Dutch Ambassador to Lebanon Hester Somsen and Lebanese-Iraqi cartoonist Hassan Bleibel meet with LAU political science students.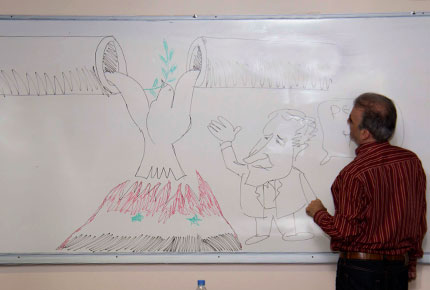 Hassan Bleibel stops explaining and switches to what he does best: drawing cartoons. Only this time, it is not for the Daily Star or Al-Mostaqbal newspaper, but on a whiteboard at LAU Beirut, on May 16. The lively debate has suddenly gone silent. Everyone in the room, including Dutch Ambassador Hester Somsen, is leaning forward, riveted in suspense as Bleibel scribbles wildly with the marker and his cartoon comes to life.
"Can art influence diplomacy?" someone asks when Bleibel is done. Somsen definitely thinks so. "The influence of art is huge. The impact of an artist might be even bigger than my impact as a diplomat. And we just saw an example of its power visualized here in front of us," she says pointing to the board. "Everyone looks at this and immediately wonders: 'What does it mean?' Indeed, cartoons and other media – rap songs, paintings, plays – can all trigger thinking and debate."
Discussing cases of public uproars created by different cartoons around the world, political science student Diala Al Masri, who is interested in becoming a cartoonist herself, voiced her concerns about the risks of tackling sensitive issues.
"There is a difference between freedom of expression, constructive criticism and insult," explains Bleibel. He gave examples from his own journey as a cartoonist dealing with censorship and misunderstanding. "For a long time, I was trying to criticize Israel's policies in my cartoons, without realizing that my graphics were anti-Semitic – something I didn't intend at all."
Bleibel went on to explain that a cartoonist inevitably has to step on a few toes, because one cannot silence themself at every little turn or worry about being termed 'offensive'. "Every society has taboos, especially when it comes to religion, and even cartoonists with the best of intentions can fall victim to misinterpretation. But at the end of the day, they are here to challenge society and they have to be prepared to face all kinds of reactions."
After explaining how The Hague became the center of peace and justice in the modern world, Somsen invited LAU students to participate in a cartoon contest organized by The Hague and the Dutch Ministry of Foreign Affairs. "Even those who are not artists can submit an idea and have them drawn by a professional cartoonist," the ambassador explained.
For political science student Hrag Avedanian, what is impressive is the fact that ambassadors to Lebanon, the highest representatives of their countries, are taking the time to meet students in universities. To him, "this shows how important and crucial the role of the youth is in countries undergoing political change and transition."
If you wish to participate in the competition, go to cartoonmovement.com/login and login with the username PeaceJustice and password Article90. Pitch your idea and select "Peace & Justice" as your subroom. Alternatively, you can make your own account to pitch an idea. At the end of the project, an international jury will select the ten best cartoons. These will be displayed at the Peace Palace in The Hague for the week of September 21, 2014, to mark the International Day of Peace.