An artistic revolution
The Department of Graphic Design hosts a seminar on the cultural and artistic implications of the new wave of digital media.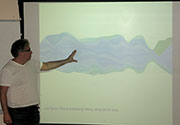 Dr. Lev Manovich presented some of his works during the lecture.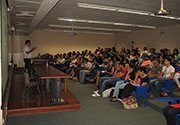 Students in different fields, faculty and staff attended the event.
Click on any photo above for larger version.
Earlier this month, the Department of Graphic Design at LAU Beirut invited internationally renowned author and computer media specialist Dr. Lev Manovich to speak to an audience of students and faculty from various disciplines about the cultural and artistic implications of the new wave of digital media.
"Manovich's work demonstrates the endless possibilities in visualization techniques and layout variations of assembled data on a computer screen," says Yasmine Taan, associate professor in the School of Architecture and Design who coordinated the event.

"In other words, he examined how we combine microscopic and telescopic vision, close reading and distant reading of artifacts that create new visual patterns," she continues.
"As visualization has become ubiquitous in mainstream culture, the ability to detect patterns in visualization of large cultural data sets allows new possibilities for the studies of both contemporary and historical cultures," Manovich says.
Moscow-born Manovich is a professor in the Visual Arts Department of the University of California—San Diego and is the author of numerous books on the topic of digital media, the most prolific being The Language of New Media (The MIT Press, 2001) which is considered compulsory reading for anyone critically engaged in an understanding of digital media and has been translated into eight languages worldwide.

"The most exciting venture is being able to uncover how cultural objects come to be," Manovich continues. His most recent project consists of uncovering sophisticated breakdown of patterns and creating visualization out of images themselves.
The expert explained how he navigates massive visual collections of user-generated content, which may contain millions of images and thus allows us to see patterns in cultural data that were not previously possible.
After giving a brief history of visualization since the mid 1990s, he showed some fascinating examples of visual media such as art, photography, film, animation etc. The audience was particularly impressed by the sight of the pixelized abstract composition which when enlarged revealed million of Manga (Japanese comics) illustrations on the projected screens.
"It was mesmerizing to witness how data could be transformed into works of art and how art revealed stories of our evolving culture," says Vice President for Student Development and Enrollment Management Dr. Elise Salem who attended the event.
First year communication arts student Rima Taha concurs, "It is great to be exposed to an international figure and learn about these interesting conceptual ideas—especially graphing cultural patterns," she says.
"As an artist myself, it is very inspiring," continues Taha.