An athletic oasis
The Athletic Department in Beirut forges ahead with construction of a new state-of-the art fitness center.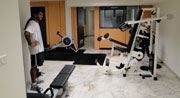 The current athletic equipment will has been relocated on the mezzanine floor of the "Capital Suites".
Click on photo above for larger version.
Construction of a state-of-the-art athletic facility — twice the size of the current facility, with an expanded gym as well as extensive new equipment and other amenities — is currently underway on the Beirut campus, with a projected completion date of June 2013.
Officials say the massive investment in renovation and upgrading works — undertaken under the administration of the Facilities Management department and the supervision of IDEP Consult — has been fueled by the administration's commitment to optimizing quality of life for the university community.
The existing indoor gymnasium in Beirut, located in the basement floor of the LRC building, is currently not in service owing to the extensive renovations underway.
The new 450 m2 facility will feature new finishing materials and improved electro-mechanical systems to optimize air quality, brighter lighting, and brand-new modern exercise equipment such as weight and cardio equipment, treadmills, and elliptical machines. Moreover, it will be equipped with a TV and music system.
"The new facility's capacity represents a manifold increase over the current one. We'll have new showers, new locker rooms, and a snack area as well with energy-boosting refreshments," says Sami Garabedian, instructor and director of athletics at LAU Beirut.
"We are also considering extending our opening hours to accommodate a larger segment of the community," he adds, stressing the likelihood of increased demand resulting from the anticipated size and capacity of the future gym.
"It will be worth the wait," Garabedian predicts with a smile.
According to Georges Hamouche, assistant vice president for facilities management, the vicinity of the gymnasium to the new state-of-the-art dining facility and its location in the new student center building offers an added value to this new athletic center.
The current athletic equipment will meanwhile be relocated about 700m from lower campus, on the mezzanine floor of the "Capital Suites," the LAU male dorms across from the Commodore hotel, where it will continue to be available for use by the LAU community.
The facility will open daily from 6 a.m. until 7:30 p.m. and be accessible by stairs from the lobby. Instructors will be available to guide visitors through their workouts.
The basement level of the gymnasium building houses a heated pool, an indoor basketball court, aerobics and dance rooms as well as two outdoor tennis courts on its top, next to the Safadi Fine Arts Building. These facilities will remain functional during the yearlong renovations.