On the Egyptian Revolution
Egypt's Ambassador to Lebanon Mohamed Tawfik gives an overview of the Egyptian revolution to LAU summer course in political science.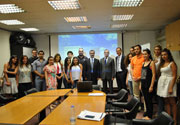 According to participants, such workshops offer a different perspective about the current events in the region.
Click on photo above for larger version.
As part of the Political Science and International Affairs' two-week intensive course on Middle Eastern politics and the Arab Spring, Egypt's Ambassador to Lebanon Mohamed Tawfik gave a talk about the Egyptian revolution and the factors that gave rise to it.
Under the title "Middle East Politics and World Affairs," the course focuses on the current rise of popular protest movements and collapse of several autocratic regimes in the MENA region, as well as the underlying context.
The intensive course lasted from June 11 to June 22, and was jointly delivered by Dr. Imad Salamey, associate professor of political science and international affairs, and Dr. Tamirace Fakhoury, assistant professor of political sciences and international affairs.
"The Egyptian revolution happened very quickly and very suddenly, but the causes of it had been building up for decades," said Tawfik.
Corruption, nepotism, and concentration of political power in the country had grown ever more deeply entrenched, Tawfik explained. President Hosni Mubarak's rule had lasted 30 years, and on the eve of revolution he was grooming his son to succeed him.

"This became an unbearable situation for most Egyptians, especially the young, who felt that they could not see any light at the end of the tunnel," he added.

On the economic front, endemic poverty and unemployment — the majority of Cairo's population was now living in slums — exacerbated the situation. Poverty on this massive scale was unheard of in the Egypt of 40 years ago.

The situation culminated in the social-media-mediated revolution, noted Tawfik.
As a result, thousands of people marched toward Tahrir Square, which became an iconic spectacle, a synecdoche for citizen revolution worldwide, with activists engaged in everything from distributing free food to sweeping the sidewalk and maintaining order.

"This is what the future of Egypt should look like; this is how the Egyptians want it to be," said Tawfik.

Tawfik's speech also tackled Egypt's current presidential elections, the results of which had yet to be announced.

Khalil Fayad, an International Affairs Master's student at LAU, was grateful for the lecture's multifaceted overview and critical analysis of the Egyptian revolution.
"We tend to underestimate the role of democracy, but the Egyptian people have a different level of appreciation for it," Fayad says. "They care deeply about maintaining stability and achieving economic growth without jeopardizing their newfound freedoms."

The Egyptian revolution appears to many to be unraveling, but it isn't over, Salamey stressed. Its dénouement will shape the future of Egypt and have huge implications for the entire region.
"It's important for us — from an academic perspective — to examine Egypt's revolution, as well as others taking place in the MENA region, in order to get a clearer understanding of their causes and consequences," he says.

Other prominent guest speakers who have lectured as part of the course include Chief of Political Affairs at the U.S. Embassy in Lebanon Danielle Garbe, Deputy Director of the Institute of U.S. and Canadian Studies at the Russian Academy of Sciences Dr. Victor Kremenyuk, and Dr. Mark Farha, assistant professor of political science at Georgetown's School of Foreign Service in Doha.

Another international affairs student Manar Fleifel who has attended previous similar workshops says: "These workshops give us a different perspective - whether it's from a political, social, gender-related, religious, or even technological standpoint - about the current issues in the region."