An Evening of Gratitude and Knowledge Exchange
Pharmacy specialists and scholars gather for presentations and an award ceremony during the annual preceptor appreciation event.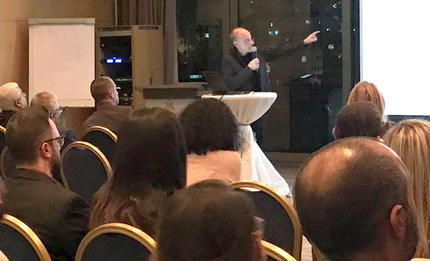 Members of LAU's School of Pharmacy gathered with pharmacy practitioners earlier this month for an annual event that offers both an opportunity to share their latest practice updates and to thank the many professionals who take on the role of preceptor – or tutor – for the school's student interns.
"This evening serves as a forum to share innovative practices as well as show gratitude for your partnership," said Lamis Karaoui, director of experiential education at the school, as she welcomed dozens of pharmacy professionals and scholars. "We believe in your dedication to our students, who will soon become your colleagues," echoed the school's Dean, Imad Btaiche, who took the opportunity to highlight the importance of LAU's interdisciplinary approach to patient care.
Also praising LAU's School of Pharmacy was Lama Hokayem, senior country manager at pharmaceutical company AMGEN – the sponsor for the evening. "I see here key leaders in the industry," she enthused. "With such knowledge in one room, we can make an impact." Notably, the school's PharmD program is the only one outside the US that is accredited by the Accreditation Council for Pharmacy Education (ACPE). The program extends over six academic years, including two years of pre-pharmacy and four professional years (P1, P2, P3 and P4) of pharmacy education.
The talks kicked off with a presentation by Dr. Georges Ghanem, chief medical officer at LAU Medical Center-Rizk Hospital, providing new insights into PCSK9 Inhibitors. Dr. Rachel Rafeq, a clinical pharmacy specialist in medication safety and emergency medicine at Cooper University Hospital in New Jersey, subsequently expounded on lean pharmacy management via videoconference. These were followed by the announcement of the Preceptor of the Year awards.
"It's a boost, for sure, to have the students show their appreciation," said Chady Barbar, a tutor of P3 students year-round and of P1 students in the summer. He received the P3 Preceptor of the Year Award. The P4 Preceptor of the Year Award was granted to Dr. Joshua Swan from Houston Methodist Hospital, Texas, where graduate PharmD students complete four months of required Advanced Pharmacy Practice Experiences (APPEs). On receiving the news, Swan expressed his delight that this had been a positive experience for LAU's 2016-17 P4 class.
All P3 students – 67 in total this year– spend 10 weeks interning at a pharmacy in Lebanon. Barbar takes an average of two students under his wing each semester. "It's our responsibility to share our knowledge and be part of the community," said Barbar, who graduated from LAU in 2004. "We train them in software data entry, patient privacy and, most importantly, in patient counseling." He noted that he too learns from his interns. "They are engaged in all things academic, which include the latest data and innovations, so we discuss these as well."
As a sign of gratitude, and as an opportunity to network and discuss pharmaceutical innovation, all attendees were invited to dine together. "Thank you is not enough," said Btaiche. "You help educate our country's future pharmacy professionals and advance the profession in Lebanon."