An eventful day at LAU Byblos
Old and new faculty members celebrate the beginning of a new academic year at LAU.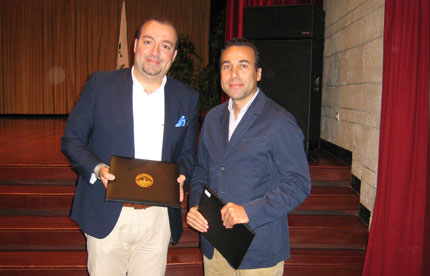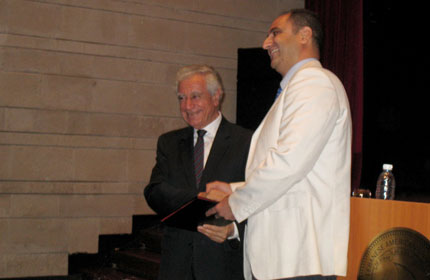 LAU's Byblos campus opened its doors to old and new faculty members from all departments on Saturday September 26.
For the 32 new faculty members joining LAU this year, this was a valuable occasion to get to know the campus, their colleagues, and obtain guidance on the management of research and service centers.
Addressing the audience, LAU President Joseph G. Jabbra cited the values that have guided the university throughout its history ― to seek the truth, respect human dignity, be conscious of gender equality and listen to each other. He also reminded all staff members of their duty to pursue academic excellence, focus on the education of the whole person and form students who would contribute to building a better society.
"President Jabbra's words were very inspiring," says Harag Margossian, who joined LAU's engineering department this year. "He is very passionate about the university and knows how to convey that passion to his listeners," he said. After having obtained a dual Ph.D. and studied in Sweden, Belgium and Luxembourg, Margossian decided to come back to his home country and enrich LAU's pool of experts with his knowledge of power engineering.
American-born Michelle Kelly also traveled to Lebanon to join LAU, thrilled at the idea of working within the Department of Social Sciences and in collaboration with the various institutes at LAU. "Coming to Lebanon is a dream come true," she says, stressing that her marriage to a Lebanese influenced her studies in international social work. "I hope my presence here will result in a collaboration between LAU students and faculty and my former students and colleagues at the University of Mississippi."
For the first time, the Fall Annual Faculty Meeting, the new Faculty Orientation, the Faculty Community BOT report and the Faculty Award distribution were held together so as to ensure greater interaction.
"We were delighted to blend all four activities together in one day in order to enable all faculty members to meet each other and put a face to a name," says Mona Majdalani, assistant provost for Academic Affairs. The Faculty Award was reinstated this year in recognition of the great output produced by LAU's faculty. "It is only fair to recognize and promote their achievements," says Majdalani, "which also encourages others to work harder."
The Award for Excellence in Teaching was shared by engineering Assistant Professor Gabriel Bazi and Wissam AlHussaini, assistant professor at the Adnan Kassar School of Business, for their ability to commend and motivate students. Engineering Professor Chadi Abou Rjeily received the Award for Excellence in Research for his academic output and the quality of his research. "This award is very dear to my heart because it means that other faculty members have appreciated my work and voted for me," says Abou Rjeily, who contributed to and edited some of the most prestigious scientific journals in the engineering field. "For me, the secret behind professional success is time, potential and passion. But to have passion for what you do is perhaps the most indispensable of all."