An insight into American Government and politics
Political Attaché for Lebanon's US Embassy, Dr. David Jeffrey gives a lecture to LAU Political Science students.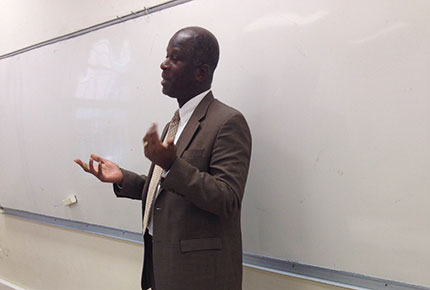 On November 29th, political science students gathered for an insight into the structure of the American Government and U.S. politics. Dr. David Jeffrey, political attaché at the U.S. embassy in Lebanon, who deals with internal politics in the country, gave a guest lecture as part of Dr. Imad Salamey's American Politics class.
Jeffrey gave a detailed breakdown of the American political system structure, underlining two important strands: the Separation of Powers and Bill of Rights. "These two issues structure our politics at all levels, from national through state to local," he said. He discussed the American judicial, legislative and executive power structures on each level, as defined by the American constitution, detailing the powers of the Supreme Court, Congress and President along with the State Court, State Legislature and Governor, as well as Local Courts, Councils and Mayors.
Jeffrey touched on the civil rights era to show how a change in the law can sometimes be made at a state, rather than national level. "During the civil rights era, different establishments refused to serve people like myself," Jeffrey said.
Jeffrey also underlined the lead that the Supreme Court can also take to assert its power and affect the legality of a law.
Other topics that the political attaché touched upon, included the recently signed treaty between the U.S. and Iran, as well as the power civil rights groups can have on forcing an issue to court - "It's great because our system is really open to citizens at many different levels," he concluded.
As Jeffrey opened the floor to questions, most students asked about issues of regional relevance, while a few touched on the recent U.S. Government shutdown over Obama's Health Care Bill and the budget deficit. The students expressed their appreciation of the "not too theoretical" approach to discussing American politics and the food for thought it gave them to explore the issues in more detail.