Animal rights activists take spotlight at LAU
Two board members from Beirut for the Ethical Treatment of Animals visit LAU Byblos to promote their cause.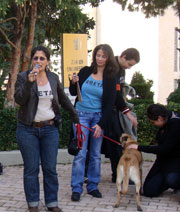 BETA board members, Helena Husseini (left) and Sevine Zahran (right), promote respect for animals at a presentation on the Byblos campus.
Activists from the charitable organization Beirut for the Ethical Treatment of Animals visited LAU's Byblos campus on January 15 for a short outdoor presentation to promote their organization and raise awareness of the plight of abused animals in Lebanon.
The group brought along several rescued dogs and explained how the K9s are helping disabled and injured children find new joy in life.
"We are really against buying animals, we'd rather see them adopted," said Sevine Zahran, one of BETA's board members present at the event.
Zahran said that BETA is looking after about 240 dogs in its shelter that are in need of permanent homes and she encouraged people to consider an adoption.
The event was organized by LAU's Institute for Peace and Justice Education at the School of Arts and Sciences.
"Peace education is not limited to human relationships. We have to learn to respect life in all its forms," said Dr. Irma-Kaarina Ghosn, the institute's director and chair of LAU's Department of Humanities and Social Sciences in Byblos, after citing one of Gandhi's famous quotes: "The greatness of a nation and its moral progress can be judged by the way its animals are treated."
During the 2006 war on Lebanon, BETA rented a new center in Monteverde in Mount Lebanon to protect animals abandoned by their owners from Israeli bombings. BETA members also drove throughout the South with bags of food for cats and dogs left stranded on the streets.
Helena Husseini, another BETA board member, said the group promotes a vegetarian diet and cautioned against the consumption of meat from the Beirut slaughterhouse because of its unsanitary conditions.
The group also responded to critics who argue that they should be helping humans instead of animals by pointing out that there already exist thousands of registered organizations in Lebanon with that goal.
"Some people will say it's a bit unusual to protect animals in Lebanon when people often don't even respect human beings," Husseini said. "Well the thing is, you can do both."
For more information about BETA, visit its website.