Annual conflict-prevention summer school attests to its success
The IPJE summer school on conflict prevention and peace building wraps up its sixth consecutive year at LAU Byblos.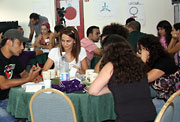 Much of the program of the Summer School for Emerging Leaders in Conflict Prevention and Transformation, held at LAU Byblos, involved group discussion.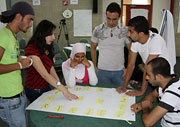 The participants work on a project after watching The Milagro Beanfield War, a 1988 film about a small farmer who protects his bean field from corporate and political forces threatening his business. This project focuses on the film's characters.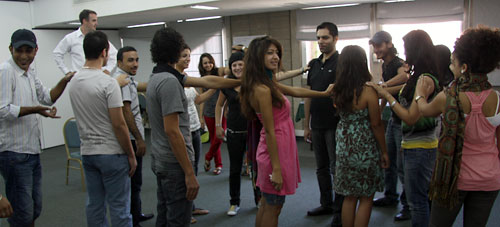 During one activity, the participants were asked a series of questions and were requested to put their left hand on the person that corresponded best with their answer. They were asked, for example, to identify one person who challenges them.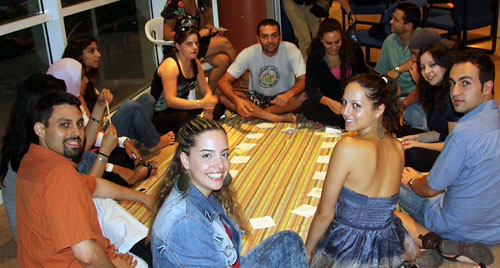 During a dinner, the participants were divided into three groups representing the poor, middle class, and rich. Here, the poor sitting on the floor and eating rice.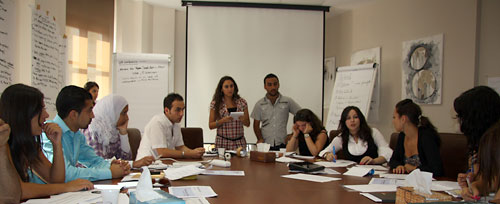 The participants engage in an activity at Common Space, an organization in Beirut that deals with consensus building.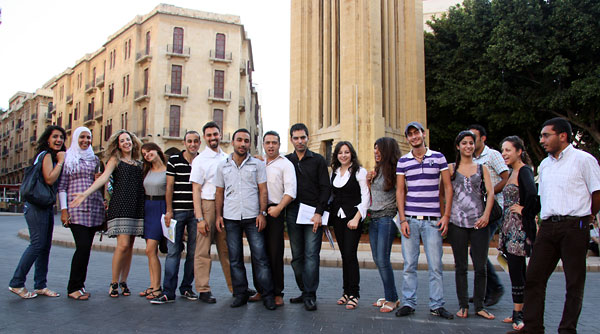 The summer school participants in downtown Beirut.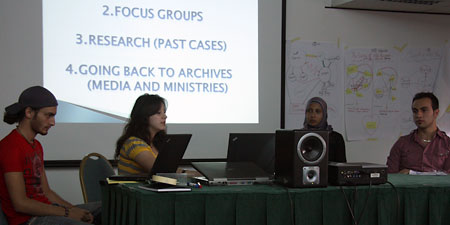 A group presents its final project about youth and war in Lebanon, and avenues to prevent conflict.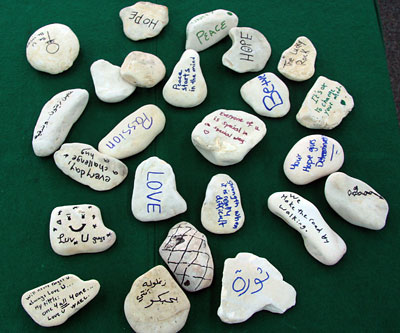 During the last activity of the program, each participant wrote something on a stone, put it in a bag, and chose one at random.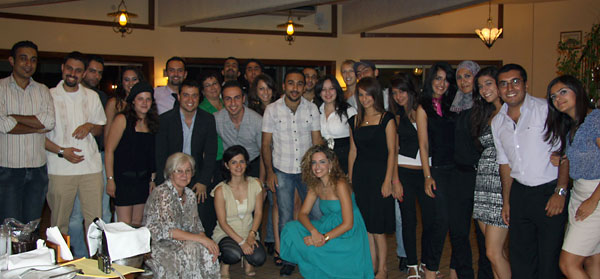 The participants pose together at the closing dinner.
Click on any photo above to view all nine images.
Since 2004, LAU's Institute for Peace and Justice Education has been organizing an annual summer school for Arab youths and young adults from different backgrounds to come together for an intensive, 10-day program on peace building.
Each year, organizers of the Summer School for Emerging Leaders in Conflict Prevention and Transformation select 30 individuals — usually university students or young workers — to take part in a series of activities that open their minds to new ideas; arm them with technical skills; and instill values of cooperation, trust and tolerance in them.
"We have a track record of success," says Dr. Irma Ghosn, IPJE director and chair of the Department of Humanities and Social Sciences at LAU Byblos.
Ghosn explains that follow-ups with former program participants reveal that about 30 percent of them have followed a path toward peace building. She says some have gone to work for NGOs, others have pursued graduate degrees in fields related to peace building, and a handful are working as facilitators and trainers in their communities.
This year, 20 participants completed the program from August 2-12 — about half of them Lebanese and the other half Palestinian.
During one of the most popular activities this year, the participants visited Common Space, an organization in downtown Beirut that deals with consensus building. There, they engaged in conflict simulation of the current political situation in Lebanon. Each person was assigned to represent a different country or political party, and had to reach agreements in order to prevent a new war.
Like every year, the program was hosted on the LAU Byblos campus, where the participants resided together in the dorms, intentionally paired up with roommates from different backgrounds.
"The first day they go into their room, they come face to face with someone who represents 'the other,'" Ghosn says. "That has been the most fantastic thing, because all that many of these young people know about 'the other' is what they've heard from their parents."
Third-year LAU student Mira Daher, a participant in this year's program, says the experience has built her "capacity to communicate and ability to negotiate," in addition to expanding her network of like-minded individuals involved in civil society.
"The summer school taught me the importance of active engagement with other youth. It taught me to listen to their stories, opinions, dreams, and to take them seriously," says Daher, who remains committed to continuing her involvement in civic engagement, peace building and conflict resolution in the future.
The day after the summer school program ended, Daher began an internship in Beirut with an NGO, the Lebanese Association for Civil Rights, where she immediately realized the opportunity to put the skills and knowledge she had acquired into action. There, she is involved in a couple of projects, including a non-sectarian, non-violent youth movement.
"Even if they don't pursue NGO work, that's fine," Ghosn says. "If they have gained an understanding of 'the other,' and … [have learned] that 'the other' is not some kind of a faceless entity that cannot be approached, I think they can make an impact in their own communities, and gradually in the society at large."
"It has a rippling effect," she adds.
A graduate of last year's program, Hana Sleiman, addressed this year's participants during the welcoming ceremony on August 2, where she talked about her experiences in the program and how it has helped shape her.
Today, Sleiman is employed by World Vision, an international relief and development organization, where she is working on projects at the Nahr el Bared and Burj el-Barajneh Palestinian camps in Lebanon.
"I went to work in the real world which is very, very critical of conflict transformation, especially in the Palestinian context, where peace building is seen as an alternative to resistance," Sleiman, a Palestinian, told the audience, explaining how those who are unfamiliar with the concept consider peace building as "abandoning their cause."
"We all want the same thing: peace that is just," she added. "This is what we do, but it's only done in a different way."
The summer school was organized with the support of the Mennonite Central Committee Lebanon and Consensus, a negotiation and conflict-resolution consulting private firm based in New York.