Arab immigrants, democracy and dissent
LAU's Tamirace Fakhoury studies the ways in which Arab immigrant communities contribute to the politics of democratization and dissent.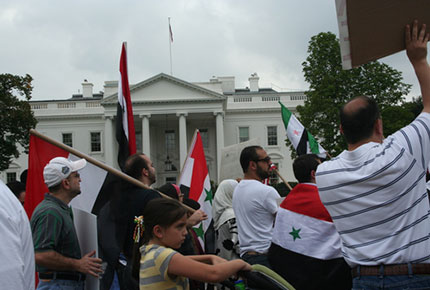 To what extent do Arab immigrant communities contribute to the politics of democratization and dissent in their homeland and their host land? This is the question that has been at the core of Tamirace Fakhoury's research agenda since she attended the European University Institute in Florence as a post-doc in 2009.
"While in Florence, I started working on migration, Arab immigrant communities, their ebbs and flows, and profiles of Arab communities in the West and within the Arab world," explains the LAU assistant professor of political sciences and international affairs. "Since then I've developed a research agenda based on the linkages between Arab immigrant communities and political development."
The 2011 uprisings and their continuing aftermath make Fakhoury's research all the more significant and timely. Armed with membership in the Arab German Young Academy of Science and Humanities and a fellowship from the Alexander von Humboldt Foundation, Fakhoury is in the middle of a twelve-month fellowship based at the German Institute of Global and Area Studies in Hamburg.
Her project centers around interviews with representatives of the local Arab community in Europe. "Do they contribute to the discourse of democracy? When they live in the West, do they criticize certain policies? Do they seek to improve their image? Do they seek channels of empowerment? I am keen to answer all these questions," says Fakhoury enthusiastically.
To obtain the answers, Fakhoury is carrying out structured interviews with stakeholders who influence the organization and transnational movements of Arabs in the West. "These stakeholders take many forms, including community members and student associations. I'm working on cities, not nation states, trying to see agency through the prism of city scales," she explains, adding that she has focused on Arab communities in Hamburg and Berlin and will soon travel to Barcelona. "I hope in time to also compare the conditions under which each community operates."
Having already conducted similar research in the U.S. and dozens of interviews in Europe, Fakhoury is starting to draw some conclusions. "Arab immigrant communities used to be preoccupied with debunking stereotypes. That is less apparent now. The diasporic communities were euphoric when it came to the Arab uprisings and felt they could contribute to democratization," she says. However, she notes that not all Arab immigrants supported the revolutions. "They are fragmented, replicating the fragmentation in the homeland."
Fakhoury has interviewed both first and second generation Arab emigrants, and has noticed a marked difference in their attitudes: "Second generation immigrants are established and not afraid to engage in activism. First generation immigrants are often students. They don't know what lies ahead. They may have the enthusiasm, but are often afraid of upsetting their host country or of returning home to a precarious situation."
Despite the different outcomes of the revolts in the various relevant Arab countries, Fakhoury explains that considering Arabs collectively in the West is inevitable. "I have spoken mostly to Egyptians, Syrians, Lebanese, and Palestinians. In the U.S. I also engaged with Libyans and Yemenis. The problem is that people there don't differentiate between Arab nationalities. Their identities are lumped together through their inability to carve out diasporic presences based on country of origin," she says.
However, in Fakhoury's view, there are benefits to being part of a larger group in the West: "United, they may have a stronger voice. Arabs don't have a strong lobbying presence in Germany, so they choose to mobilize united. Sometimes however they do so under Muslim associations and start losing their own voices."