Arabic close to the heart
LAU's library hosts the launch of a new CD of stories by LAU alumna and children's book author Rania Zaghir.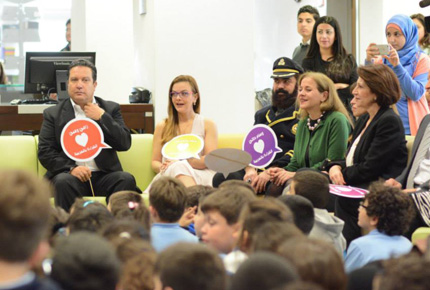 "When I record in Arabic," says Tania Awad Ghora to a large group of children gathered at LAU's Riyad Nassar Library, "my voice sounds different than when I record in English or French. When I record in Arabic, I feel my heart is speaking and my brain is also connected to my heart." A well-known voice over artist and television show host, Awad Ghora is one of six celebrities who collaborated with LAU alumna and children's book author Rania Zaghir on a new CD of her stories presented at the LAU library.
Fifty percent of the proceeds from the CD — titled Rin Rin Ya Jaras — will go to the Brave Heart Fund, a charitable fundraising initiative established in 2003 to help cover the medical and/or surgical expenses for underprivileged children suffering from congenital heart disease.
"I chose the Riyad Nassar Library because LAU owns a treasure," says Zaghir. "That treasure is the 30,000 children's books in its collection, with the oldest book dating from 1939. I wanted to highlight that. This is a beautiful library with a lot of cultural maintenance put into it. I wanted to reconnect with my university and the alumni office embraced the idea," says Zaghir.
Executive Director of Alumni Relations Abdallah Al Khal helped coordinate the event. "We couldn't accept that Rania do the event in any other place," he explains. "When she proposed the idea of the launch taking place at LAU, we opened our doors to her. LAU is the alumni's second home."
TV personality and poet Zahi Wehbe recited one of the poems in Arabic for the children, who listened earnestly. "Encouraging kids to read in Arabic is very important these days. We must not let go of our mother tongue; we need to read, write and speak in it," he said.
LAU President Joseph G. Jabbra, who opened the event, shared with the audience his faith in LAU as an institution of giving, as well as in the children themselves. "LAU was founded on giving, and, as I always say, the best gift in life is the gift of giving. And today is a typical example of what the institution does," he declared. "It is open to promote and serve everyone. A society's treasure is its children. They symbolize life — they are the future."