Arabic translation of Spanish play tests cultural taboos at Beirut theater
This year's spring major theater production in Beirut was Federico Garcia Lorca's The House of Bernarda Alba.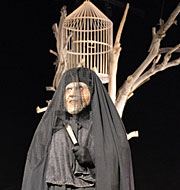 The matriarch, Bernarda Alba, plots her next move.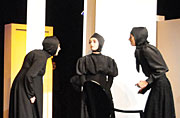 Conflict ensues as Alba's daughters express their frustration with captivity and their sister's marriage.

Spanish playwright Federico Garcia Lorca's short and brawny play The House of Bernarda Alba was the spring major theater production by LAU's Arts and Communication Department in Beirut that was performed in May.

Translated into colloquial Arabic from Spanish by Dr. Lina Abyad, assistant professor in LAU's School of Arts and Sciences, and Lebanese novelist Rachid Al Daiif, the result was a daring production about repressed desire that tested cultural taboos in the Arab world. In less than 50 minutes, the play tackled women's issues as well as the lifelong quest of individuals to fulfill their inner hidden desires.

"This play is about the pressures of containing all your desires and frustration and what they all lead to. These, and women's issues, are some things we need to talk about continuously in this part of the world. We are just scratching the surface of these battles and there is so much to say," says Abyad.

Struck by the play's message, Abyad reshaped the script with the heart of Lorca's vision in mind. By using colloquial Arabic, scenes and dialogue were redesigned to adapt to the play's unique audience.

The drama illustrated the physical and psychological manifestations of repressed desires coerced by duplicitous cultural mores.

Matriarch Bernarda Alba represented this oppression as she vehemently forced her five daughters into an eight-year mourning period after the death of her second husband.

Isolated from the rest of the world by their virtual imprisonment, familial tensions mounted as the eldest daughter received a marriage proposal upon inheriting a fortune from her father, Alba's first husband.

Although this culminated with the suicide of Alba's youngest daughter, an additional scene was added to demonstrate the existence of hope hidden in us all — embodied by uninhibited, ageless desire.

Abyad directed a cast of students from the School of Arts and Sciences including local Lebanese actor Ziyad Ghawi, who played the role of Alba.

Abyad's unconventional methods contributed to the play's depth. The roles were assigned to actors who chose to work with her, and after a series of improvisations and readings, the actors were able to select their own roles.

"I want to work with people who want to work with me. I think it is rude to pick people — it is condescending," Abyad explains.

"I put many layers into my play. This is the purpose of art — to question — and to make you hesitant about things to go beyond the simple reading of everyday life."

The play ran at LAU's Irwin Theater, Beirut campus, May 14–17 and May 21–24.