Interior architecture students create a buzz at the National Museum
Acclaim for the products designed by the winners of a competition organized by the National Museum of Beirut's boutique in collaboration with LAU.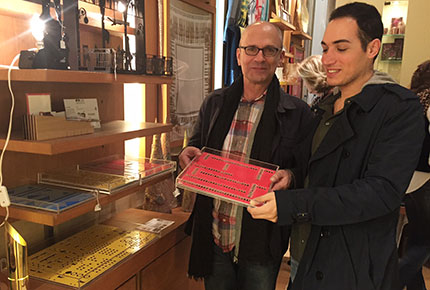 LAU students Hoda Rawas and Marc Azzi proudly displayed their products alongside those of some of the most prominent designers in the country at the National Museum of Beirut's boutique during the annual Nocturne last December. Not only did the interior architecture students sell everything they had exhibited, they received several orders.
"It was a great success," says their instructor Ghida el-Zein Geha. "And they were introduced to a lot of people, including designers, Mrs. Mona Hrawi (head of the museum committee) and the Minister of Culture, who bought one of their designs," she adds.
Rawas and Azzi are the winners of a competition organized for the first time by the museum's boutique in collaboration with LAU.
An adjunct faculty member at the School of Architecture and Design, Geha found a way to incorporate the competition into her "Topics in Interior Architecture" course, a professional elective in which each instructor chooses a focus of their own. "I decided to focus on product design," says Geha, who believes that it is something that many students studying interior architecture often overlook.
The course, which is taught during the spring semester, was structured to suit the competition. Geha talked the students through the production of different materials — such as marble and wood — and how they are used. She also scheduled a visit to the museum for the students to get inspired while requesting that they add a modern twist to their creations.
After the students' designs were put to the test through three jury sessions, the winners were announced by the museum's committee.
Rawas' piece, ROW, is a desk organizer made from painted oak with a design inspired by Phoenician boat artifacts, her unique take on antique culture. On the other hand, Marc Azzi's Mosaic Trays hearkens back to interesting mosaic patterns "projecting scenes and messages" from different periods in Lebanon's history. The Mosaic Trays, which come in sets of three, are made using colored Plexiglas sheets, giving these classic designs a modern style.
Both students are set to graduate this summer, and believe that the Nocturne competition has given them a head start before they head out into the real world. In addition to acquiring new skills that can't be learned in a traditional classroom environment, Rawas discovered an interest in product design, a field she plans to continue exploring after graduation. As for Azzi, who aspires to start his own business in the fashion industry, he "benefited from meeting people from different fields, as well as learning to sell [his] product."
The students' designs will be exhibited at the museum boutique all year long.