Art of the Islamic World
The introduction of the Mu'taz and Rada Sawwaf Master's in Art and Architecture gives LAU's Institute of Islamic Art and Architecture a new boost.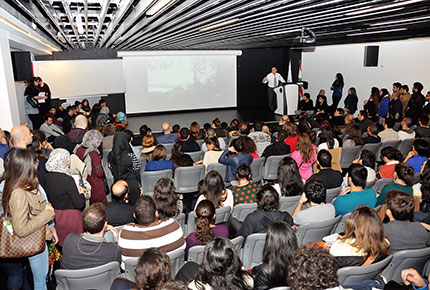 In yet another exciting move, LAU is soon to introduce a master's program in Islamic Art and Architecture. This will be another first for Lebanon, the nearest related program being in Cairo and after that in London. The Mu'taz and Rada Sawwaf Master's in Art and Architecture is to be established by a generous endowment from Mu'taz Sawwaf himself. The program, expected to start in spring 2015, will be open to graphic designers, architects, interior designers, scholars from history or sociology backgrounds and the like, and run by the university's Institute of Islamic Art and Architecture.
It was only through a donation from Sawwaf, an architect and entrepreneur, who felt that awareness of Islamic art should be better spread throughout the region, that the institute was established in 2004. Its aim is to promote knowledge of the enormous and extremely rich field of Islamic art and architecture. It has done so by organizing several events over the years.
Joining hands with the Spanish embassy in Lebanon and Madrid's Casa Arab (El Beit Al Arabi) the institute recently hosted a highly-successful exhibition of Spanish architects in the Arab world. Architect Alberto Campo Baeza – who established the Museum of Andalusia Memory in Granada – inaugurated the event and gave a lecture about his work.
"It was unbelievable. There was no space on the auditorium to sit. We had students from AUB and ALBA, classes with their teachers. People stayed in the corridor throughout the event, not being able to see the slides, they just listened," said Dr. Abdallah Kahil, the institute's director.
For architecture student Kholood Braish "Meeting such an inspiring architect is every rising architect's dream."
Always on the go, the institute is already planning to curate next fall a major exhibition of Islamic manuscripts from the University of Leiden, in the Netherlands, a very important center of Islamic studies. The most important publisher of books about Islamic history and art including the Encyclopedia of Islam, Brill, is based in the city. The exhibition will feature high quality reproduction manuscripts, some with remarkable illustrations and others simply texts. A symposium on papermaking and calligraphy in Islamic art will take place in conjunction with it.
What of plans for the longer term future? "It will be wonderful if the institute becomes a documentation center of Islamic art and architecture in the region," pointed out Kahil. One aspect of the center would be a digital database of images, historical information and bibliographies. "These are scatted on the Internet, here you would be able to find all of them in one place," he explained, adding, "And if we can afford to get reproductions of some of them that would be a bonus."
Sawwaf has set the process in motion with his considerable donation of valuable books on Islamic Art and Architecture, which are currently housed in the Riyad Nassar Library.
With respect to manuscripts in Lebanon Kahil believes that if there were any they would probably be from Ottoman period around the eighteenth to early twentieth century and are most likely part of private collections. He does, however, "dream of someone donating a collection" to be part of the future center. "Damascus, Cairo and Tripoli all have museums dedicated to Islamic art, in one form or another, it is time Beirut did too," he pointed out.
The institute previously organized a conference entitled Venues of Transitions that talked about the transitional period between Islamic and modern architecture, as well as several lectures: one on Kalila wa Dumna, another on 17 and 18-century houses and the connection between Aleppo and Isfahan, last year they hosted the prize winning Jordanian architect, Sahel al Hairy, who spoke about the Islamic architecture aspects of his contemporary design.