Aspiring writers gather for training at LAU
LAU English instructor Abir Ward helps young writers develop new techniques and strategies during a creative writing workshop.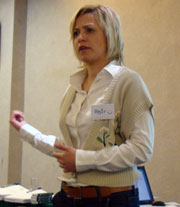 Abir Ward, part-time English instructor at LAU, led a two-hour creative writing workshop at LAU Beirut.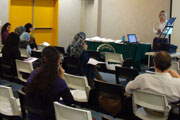 The workshop was attended by students, faculty and staff, and even included writers from outside the university.
An English creative writing workshop, aimed at helping aspiring novelists and poets learn techniques to become successful writers, was organized by LAU's Center for Lebanese Heritage on the Beirut campus, February 18.
The workshop was led by Abir Ward, a part-time English instructor at LAU, who offered the participants tips to improve their skills that ranged from the basics of organization and mental exercise, to more challenging aspects of writing such as overcoming writer's block and developing story characters.
"To be a good writer, you need to have both talent and technique," said Henri Zoghaib, director of CLH while introducing Ward. "God gave you the talent, now Abir will give you the technique."
The workshop was divided into several sections that included prose, poetry, proofreading and editing, and publishing.
Abir began the workshop, which was attended by LAU students, staff, faculty and writers from outside the university, by telling participants to start with a "BANG: Begin, Arrange, Nurture, and Go!"
She elaborated on each point while emphasizing that a serious writer must learn to appreciate his or her own writing.
"You have to love what you write," Ward said. "If you don't love reading your own writing, no one will."
During one exercise to help writers develop story characters, Ward asked participants to look around the room, choose one stranger, and begin writing what they could imagine about that person.
The exercise appeared to be the most enjoyable part of the workshop, as participants drew smiles and giggles while reciting their observations aloud.
"Socialize and observe," Ward told the group, explaining how inspiration for characters can be achieved by simply watching people go about their daily lives. "Go out and take notes," she added.
Ward also mentioned that she plans to launch a Writers' Club at LAU with regular meetings to review, critique and help inspire each other's work.
CLH organized the workshop as part of its ongoing celebration of Beirut's selection last April as UNESCO's World Book Capital for 2009 — a title the city will hold onto until April 22.
On April 8, the center will organize an Arabic writing workshop, from 5:00-7:00 p.m., at LRC 21, LAU Beirut. For registration and more information, or to learn about the upcoming Writers' Club, please email Abir Ward at: abir.ward@lau.edu.lb.