Athletes today, leaders tomorrow
LAU annual Athletic Awards Dinners showcase outstanding achievements.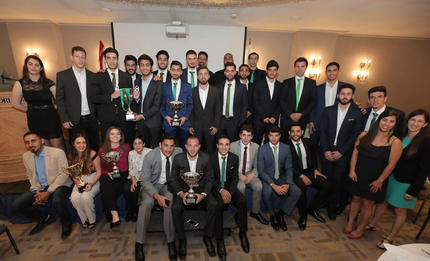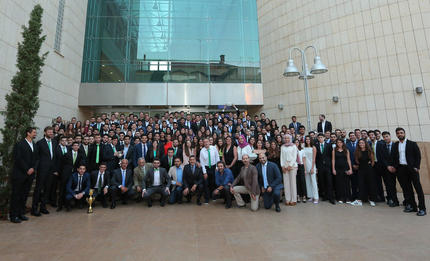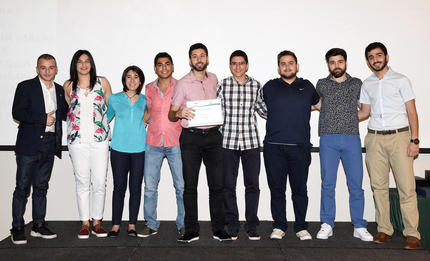 The annual Athletics Awards Dinners are more than just award ceremonies. The two events were a culmination of a year's hard work and a reflection of the university's commitment to the pursuit of excellence through the education of the whole person. Hundreds of athletes were reunited with their fellow team members, coaches, and directors at the university's Byblos and Beirut campuses to celebrate their outstanding achievements.
"We believe that athletics is a counterpart to academic and mental prowess, so we do the impossible to promote it, support our student athletes, and expand our programs," said Vice President for Student Development and Enrollment Management Elise Salem.
Joe Moujaes, director of athletics at LAU Byblos, agreed, "This annual event is a thank-you from LAU to our student athletes for all the efforts they exert outside their classrooms for the sake of their teams."
Conveying the students' excitement about the awards, civil engineering student and Byblos Athlete of the Year Karam Meshref remarked, "Everyone looks forward to the annual dinner because it not only showcases each team's achievements, it also brings us all together again."
In his final athletics awards dinner speech, the dean of students at LAU's Byblos campus, Mars Semaan, took the opportunity to express his feelings by revealing that, "all the athletes who played with LAU during the past 15 years have a special place in my heart, and I will never forget any of them."
The university showed its appreciation of the athletes who improved and excelled by presenting them with awards such as the Rookie of the Year, Most Improved Player, and Most Valuable Player, as well as Legacy Cups to graduating student athletes. "My hard work throughout the whole season paid off," said a smiling Lama Younes, the winner of the Beirut's Women's Volleyball Team Most Valuable Player award.
"LAU Athletics is not only about playing sports, but also about friendship, respect, fair play and sportsmanship," explained Sami Garabedian, the director of athletics at LAU Beirut, who was delighted to be celebrating with the students.
That is why Sportsmanship and Athlete of the Year Awards were presented to students who showed the maximum commitment and positive spirit. "I am grateful for the Athletics Office, which has always been very supportive working hard to make us better athletes," said Jad Slaiby winner of the Tennis Most Valuable Player and Byblos Sportsmanship awards.
Director Garabedian announced that this year witnessed a 15 percent increase in participation with four new teams, two of which were women's teams. "This year has been all about hard work, commitment, dedication, and most importantly the pride of wearing the LAU name on your jerseys," he told the athletes.
The coaches' dedication and the role they played in installing team spirit didn't go unnoticed. "The coaches are the true meaning of leadership and bravery. We are all proud of your achievements," said Raed Mohsen, the dean of students of the Beirut campus.
Underscoring the importance of playing sports in university, Josephine Bilezikjian, Most Improved Player award winner on the Byblos Women's Basketball Team said, "Being part of a varsity team gave me the opportunity to meet new people and get exposed to experienced teams, especially during international games."
Videos were shown during the dinners, showcasing LAU Athletics' numerous achievements and cherished memories. "You may forget your classmates, but you will never forget your teammates," Moujaes asserted. He also announced the initiation of LAU Captains Chapter as a part of LAU's Alumni Association, in order to offer graduated athletes the chance to give back to LAU.
Not to be forgotten were the medical and training teams, who were always present with the athletes to make sure they're healthy and fit. Business student Ahmad Halawi, Beirut Athlete of the Year, believes he owes his award to them. "If it weren't for the staff − my second family − I wouldn't have reached this point. LAU Athletics is my home."