Award-winning computing
Associate Professor of Computer Science Dr. Sanaa Sharafeddine named L'Oreal-UNESCO 'Women in Science' Fellow.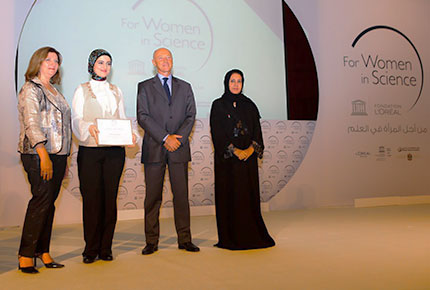 Dr. Sanaa Sharafeddine, an associate professor of Computer Science at LAU's School of Arts and Sciences, was recently decorated with a L'Oreal-UNESCO Pan Arab Regional Fellowship Award in recognition of her contribution to the advancement of computer science.
She and nine other outstanding women scientists received the prize at a ceremony in Dubai under the patronage of UAE Minister of State and President of Zayed University, Dr. Maitha Salem Al Shamsi. "I would like to thank LAU for their support in providing an environment dedicated to excellence in research and education," Sharafeddine said.
Founded in the belief that "the world needs science and science needs women," the L'Oreal-UNESCO fellowships are the first international awards dedicated to women in science. The Pan Arab Fellowships program was started in 2010 to further empower and encourage Arab female scientists.
Speaking at the awards ceremony, president of the jury Nabiel Saleh said he was impressed by the credentials of the winners. "They have demonstrated the impressive contribution that women of this region are making across all disciplines of sciences," he said. "We thank them for their work so far and wish them success in their future scientific endeavors."
Sharafeddine specializes in wireless networking and mobile computing, building on people's connectivity, the proliferation of smart devices and broadband networks. She was recognized by the jury for her research activity on personal clouds, which is meant to increase the quality of service across smart devices and enhance people's daily interaction with technology.
The award has made Sharafeddine contemplate her position as a role model to other women. "I now feel greater responsibility toward encouraging women scientists and attracting more females into LAU's computer science program," she said. Like many science programs in the Arab world, the majority of the university's computer science students are male, with around 30 percent female enrollment.
"Traditional thinking sees the sciences as dry and unappealing to women. But in the current era, computer science is the main driver of innovation," she said, adding that women could easily "play a major role in the field" and in driving development of the region.