Awareness, volunteering and celebration at LAU NGO Fair
One hundred non governmental organizations take over LAU Beirut.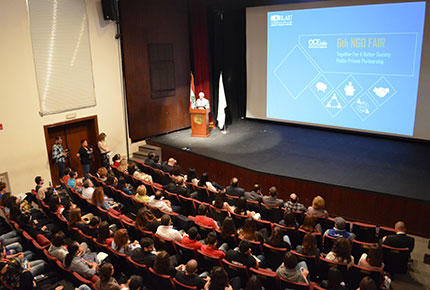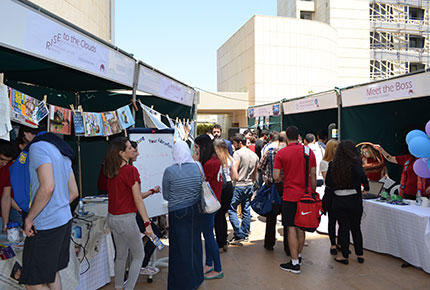 Awareness was raised, volunteers were recruited, awards were given, and speeches were made at this year's LAU NGO Fair, the university's sixth, in Beirut on May 6.
Representatives from 100 NGOs descended upon LAU, each motivated to join the fair by different goals.
"Our beneficiaries are predominantly youth and students, so we want them to know what we can offer them and how we can help them," said a representative of Skoun, an NGO providing advocacy and treatment for drug abusers.
Amel, one of Lebanon's first-established NGOs, was also looking to raise awareness of its projects. "We have 35 years of experience, 700 staff and 13 centers nationwide, but we always work on awareness and today we're here showcasing the work of the women of Men Hiya," said their representative, sat beside a table of accessories made by Lebanese and refugee women as part of a project to promote social entrepreneurship.
Also offering items for sale were BETA, Beirut for Ethical Treatment of Animals. Their primary goal was fundraising. "We used to be focused on raising awareness among students of the issues we represent and the organization itself. Once we achieved that, we started to focus on garnering financial support," said BETA representative Sevine Fakhoury.
The predominant goal among most of the NGOs present however was the recruitment of student volunteers. "We gained two regular volunteers as a result of participating in the LAU NGO Fair last year in Byblos and a further three volunteered through the Outreach and Civic Engagement unit," said Mohamed from Tripoli-based NGO Utopia. "We work on social justice, supporting local communities in Tripoli, and we rely heavily on the work of volunteers."
Assistant Vice President for Civic Engagement at LAU, Elie Samia, gave an overview of the success of the unit during a one-hour conference held during the Fair. "Nearly 6,000 students have been engaged through our various programs, and with you, we can continue to increase that number," he said to an audience of NGO representatives, many of whom have worked alongside LAU student volunteers as a result of his team's efforts.
In addition to its projects with the schools of Engineering, Medicine and Pharmacy, the Outreach and Civic Engagement unit (OCE) partnered with the School of Business to deliver a course on civic engagement. "One hundred students and 10 NGOs were involved in the course when we launched it in Fall 2013. This semester, we have 300 students and 20 NGOs involved," said Samia of the course that requires enrolled students to volunteer for 15 hours with an NGO.
"Many continue to volunteer with us after they have completed their mandatory time, but even 15 hours is useful for us, for research and brainstorming," said Eline Caillaud from human rights advocates Insan who currently have four LAU students volunteering once a week with their in-house lawyer.
In addition to celebrating the OCE's new internship initiative, LAU celebrated the success of Minister for Public Health Wael Abou Faour in promoting public-private partnership; Bahia Hariri in developing a strategic partnership with LAU in Saida; and Beirut Marathon founder May Khalil for innovation in sport. Each received an award handed over by President Joseph G. Jabbra, joined by VP for Student Development Elise Salem, and OCE director Samia.