Ayyoubé, a tribute to Palestinian refugee women
Tonight's powerful LAU alumni theater production reveals the inner strength of a woman in her journey through life.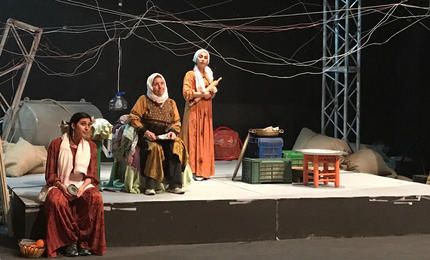 For three nights, starting tonight, an LAU alumni theater production will reveal the innermost feelings and thoughts of a Palestinian woman living in a refugee camp in Lebanon, throughout various stages of her life.
LAU theater student Tala Nachar, actress Mira Sidawi, and thespian Aliya Khalidi will bring the character of Ayyoubé to life in a play of the same name, written and directed by LAU alumnus Awad Awad.
"I conducted interviews with many women in the camps and constructed Ayyoubé's character based on those conversations," explains the director, a 2016 graduate of LAU's communication arts program.
"I found that the older women were very interesting, very open and transparent during interviews, perhaps because they believe little is expected of them," continues Awad. "I discovered that one of the things missing in the lives of the women I'd met was the realization that they have power, so I wanted to focus on that," says the writer-director.
In 1948, Ayyoubé was born in Lebanon's first refugee camp. In addition to the difficulties she faces as a Palestinian refugee, she's a mother who has a tremulous relationship with her husband and in-laws.
She is introduced to the audience in a series of interweaving monologues: first as a young woman willing to sacrifice for her family, then as a middle-aged woman who is fed-up and starting her own individual revolution, and finally as an elderly woman who has found her inner strength. "It was difficult to cast this play," confesses Awad. "Knowing how to speak in a Palestinian dialect is one thing, understanding and imbuing the culture is another."
According to Chair of the Department of Communication Arts Jad Melki, the staging of this production is a tangible step toward further engaging the university's alumni in the numerous fields of the program namely music, dance, theater, advertising, public relations, multimedia journalism, and cinema.
"Supporting a major alumni theater production was a first step and there will be more to come," said Melki. "We want our alumni to feel proud and more connected to their department and become part of our effort to reinvent the field of communication," he added.
Delighted at the strengthening of relationships with alumni on a departmental level is Assistant Vice President for Alumni Relations Abdallah El Khal. "Alumni have fond memories of teachers, former peers and learning spaces on campus. We have found that nurturing relationships with alumni through department activities greatly complements our university-wide initiatives."
Awad, the one-time creative director of an advertising agency, who left the corporate world to dedicate his time to his passion, the theater, hopes that proceeds from sale of items emblazoned with illustrations produced for the production — by Syrian artist Mohamad Khayat — will enable the play to tour Lebanon's Palestinian refugee camps.
Communication Arts students at LAU express pride in their department's mission to #ReinventCommunication
Watch full video: http://comm.lau.edu.lb