Behind a Veil
LAU graduate wins international film contest for her highly evocative student film.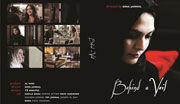 Shooting took place over two days in various venues in Beirut, and the cast was entirely made up of Jammal's family and friends.
Click on photo above for larger version.
When recent LAU graduate Dima Jammal submitted her student film entitled Behind a Veil for viewing at the Cannes Festival's Out of Competition category, she certainly did not expect it to come through.
"My friends pushed me to do it in jest," she says. "We didn't think that it would actually get screened."
In fact, the Out of Competition category features films that the Festival judges worthy of being screened at Cannes, albeit not in the official program - George Lucas' Star Wars: Episode II - Attack of the Clones, for instance, was among those movies once.
It was a zany but endearing surprise, recalls Jammal, one that opened up a lot of doors for her. One of these doors was her participation in - and eventually winning - the Reelshow Student Film Competition in June.
Reelshow International is a "website (that) is devoted exclusively to showing the graduation films and portfolios of students from all over the globe," explains co-founder Richard Dodd on the website's homepage.
Indeed, Jammal's film was part of her film making course, and a requirement for all Communication Arts students with an emphasis in Radio/TV/Film.
Shooting took place over two days in various venues in Beirut, and the cast was entirely made up of Jammal's family and friends.
Behind a Veil tells the story of Nour, in her twenties, who leads a double life, wearing the veil in her parents' presence and shedding it when she leaves her house. While her conservative family hopes to arrange a marriage between her and an opportune suitor of their choice, Nour envisages a different future for herself, and plans to elope with her lover.
"This is an issue that a lot of Lebanese people are scared to deal with, but we have to come to grips with it if we want to make a difference," says Jammal.
Curiously enough, the protagonist of the film was not initially portrayed as a veiled young woman. Jammal decided to have her wear the veil only a week before shooting, in order to add more dimensionality to both the plot and the characters.
Yet, maintains Jammal, the main issue in the film (and in Lebanese society) is the uncalled for autocracy of parents, which often winds up driving their children away.
"Whenever our students have their films screened, this gives them the incentive to work harder, be more creative," says Dr. Mona Knio, chairperson of the Department of Communication Arts and associate professor of theater.
"After all, the main purpose of shooting a movie is to have it screened. The main purpose of directing a play is to have an audience who can see it," she explains.
After winning the Reelshow Student Film Competition, Behind a Veil is now lined up for screening at the Beirut International Film Festival in October, and the Dubai International Film Festival in December.