Beirut artist exhibit reveals 30 years of inspiration
LAU graduate Henry Matthews opened his studio to the public, inviting them to explore his paintings since 1977.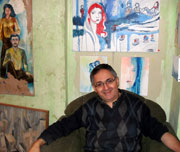 Beirut-born painter and LAU alumnus Henry Matthews welcomed the public to view 30 years of his work at his Ras Beirut studio last week.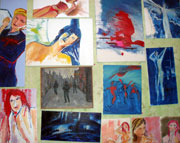 Women are the greatest inspiration behind the work of Matthews.
Beirut-born artist and LAU graduate Henry Matthews greeted visitors into his Ras Beirut painting studio with a welcoming smile and an offer of some sweets, as people went to explore his paintings from 1977 onwards, on display from January 25-29.
While most of Matthews' works focus on his primary inspiration — women and the female nude — his work is colorful and vibrant and includes work that features scenes from the Civil War, among other things.
What inspired him to open the door to his studio to the public is the fact that some planned exhibitions with local galleries fell through. "I had talked to several galleries and all seemed interested and everyone gave dates — but they changed their minds or cancelled for different reasons later," he explained. So Matthews decided to take the matter into his own hands and opened his studio.
The works on exhibit reveal Matthews' love of the female form. He admits that while women are his most profound inspiration, other factors have influenced his relationship with painting over his life, both positively and negatively, such as the Lebanese Civil War.
"The Civil War changed my mood completely. When the mood was gone I felt I didn't want to touch a brush anymore. But something kept tugging at my heart and I got this studio."
"People sometimes ask me, 'Why don't you paint nature or Lebanese houses?' But I follow my heart, which is all about women. They are at the center of everything I have done."
A fine arts graduate (1981) from the Beirut University College (now LAU), Matthews has painted in this studio in Ras Beirut, near AUB, where he works as a writer and editor in the Office of Communications, since 2003. However, his path into art began as a child when he started producing comic strips — most of which he still has in his personal archive.
In fact, his love of comics and his native Lebanon is currently being merged into his grand current project — the first-ever encyclopedia of Lebanese comic books, being produced in cooperation with the Lebanese Ministry of Culture. And it is something that he says he's putting his entire heart into.
Such a book would be a fantastic push into the spotlight of Lebanon's largely alternative, yet long-running culture of comic books, which is little known outside certain art circles.
Henry Matthews welcomes members of the public who are interested to view his works at his studio on Makhoul Street, Ras Beirut. He can be reached at 03/754425.