Beirut days of Ibsen
Regional and international theatre practitioners and academics converge at LAU Beirut to discuss the late renowned Norwegian playwright Henrik Ibsen.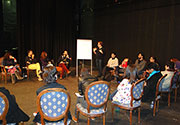 On January 12, LAU hosted a dramaturgy workshop headed by renowned Norwegian theatre director and writer Kai Johnsen.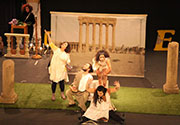 In addition to the seminar and the workshop, two commissioned theatre productions inspired by Ibsen were performed at the Monnot Theater.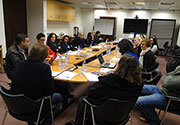 Regional and international theatre practitioners and academics took part in the workshop.
Click on any photo to view all three pictures.
As part of the "Orient the Day, Beirut in the Work of Ibsen" series, the Department of Communication Arts hosted a seminar and workshop on the work of renowned Norwegian playwright Henrik Ibsen that took place at LAU Beirut on January 11-12, respectively.
Bringing theatre and politics together, the event invited regional and international theatre practitioners and academics to reflect on the contemporary relevance of one of Europe's most prominent playwrights, best known for his scathing criticism of social norms.
Dean of the School of Arts and Sciences Dr. Philippe Frossard opened the seminar by emphasizing LAU's robust tradition of liberal arts education and commitment to holistic education as the impetus for organizing such an event. "As guardians of this tradition, we want our graduates to be Renaissance men and women—and to do this, creativity needs to be nurtured, which is why hosting such an event is of such importance."
Indeed, the Department of Communication Arts in particular boasts a long tradition of supporting theatrical performances that tackle current issues and critique the status quo — something that shares a strong kinship to Ibsen's own work. "LAU distinguishes itself by facilitating a space for students of theatre—allowing possibilities of exchange and networking," said the department's chair Dr. Mona Knio with palpable pride.
According to guest speaker Dr. Frode Helland, a scholar from the University of Oslo, Ibsen's work can be used to address social concerns: "Creating dialogue about Ibsen means creating a transnational debate about the art of living in a multicultural world," he said.
"Examining productions of Ibsen in different cultural contexts can offer a unique window to understanding social tensions present in society—whether it is in Iran or Vietnam," he continued.
In attendance was also prominent Palestinian writer and poet Najwan Darwish, who echoed Helland's sentiment: "Art is common ground that we can all stand on."
A lively round-table discussion concluded the daylong seminar and focused on the difficulties of functioning in an institutional environment that remains largely hostile to theatre and the challenge of procuring reliable sources of funding—a struggle that Ibsen himself perpetually faced. Many participants lamented the fact that it is becoming increasingly difficult to convince audiences to spend money on a night at the theatre.
However, theatre enthusiasts like communication arts student Abed Wahab Kassir from the Lebanese University recognize the value of political theatre. "The event was a valuable experience and it added to my knowledge about Ibsen," he said before adding, "I did not know much about him until today and it has certainly piqued my interest."
 
The Lebanese American University and the University of Oslo supported this project, which received the Ibsen Scholarship Award in 2011. The Royal Norwegian Embassy in Beirut and the Royal Norwegian Foreign Ministry (UD/DTS) also provided further financial support.